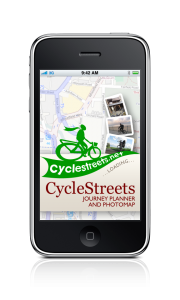 Cambridge, 22nd September 2010
CycleStreets, the community-based UK cycle routing people, have today released their much-anticipated CycleStreets Journey Planner & Photomap app for iPhone. And it's free!
Created by cyclists, for cyclists, the free iPhone app is the nearest thing to a SatNav for cycling, enabling people to plan journeys anywhere in the UK with an innovative and quick "three-taps" interface. The app includes a full placefinder, postcode search and turn-by-turn directions.
Not just a journey planner, it has a campaigning edge too. The other half of the app is a Photomap, so that people can help address the legacy of poor cycling infrastructure around the UK, simply by snapping a picture and submitting it. Local Authorities and cycling bodies are signing up to use these pictures and prioritise areas for improvement, with Cambridge and soon London the first on board.
Three different routing modes in the journey planner are available: fastest (for more confident cyclists), quietest (for newer riders) and a balanced mode that aims to suit most users. Hills are no problem – the routing knows about how to avoid an uphill struggle and take advantage of downward slopes where practical alternatives are available.
People using other mobiles aren't being left out – a small-screen web version of CycleStreets is being developed (m.cyclestreets.net) and an Android app (which powers many new phones coming out in the shops) is also being worked on. People can also go to www.cyclestreets.net via a standard web-browser.
Community roots
Despite this SatNav-like functionality, CycleStreets and the iPhone app have been developed not by a large company, but by what is a community-based group working on a not-for-profit basis to get more people cycling, more often.
CycleStreets' 'Routemaster', Simon Nuttall explains its roots:
"As cycling advocates and campaigners, one of the things we hear most often from people who don't cycle is their fear of traffic. We've built CycleStreets to help them discover cycle-friendly routes and cut-throughs you never knew existed. CycleStreets aims to be like a knowledgeable cyclist but in the palm of your hand, wherever you are in the UK."
Developer Martin Lucas-Smith added:
"CycleStreets has been made possible by the brilliant OpenStreetMap project, dubbed the 'Wikipedia of Maps'. Cyclists and others all around the UK collect and update street data that enables us then to create routing that thinks like a cyclist. Unlike traditional SatNav data, OpenStreetMap data is controlled by its user community. Anyone can get involved in OpenStreetMap, and over 300,000 people around the world are already doing so."
CycleStreets powering other apps' routing
CycleStreets routing is also being used within other cycling apps that include a route viewing amongst other features: it is already being used by the three leading iPhone apps for the London Cycle Hire Scheme, the BikeHub app and TrackMyJourney for Nokia/Java. New developers can apply for an API key.
Images:
These images may be used royalty-free and do not need to be credited.
Click on any image to get the highest-resolution version available.
Main loading screen and icon:
Journey planner screens:
Photomap screens (e.g. reporting lack of cycle parking):
Full feature list:
Plan cycle-friendly routes from A to B anywhere in the UK!
Innovative & quick "three taps" system: Set current location, tap the map to set destination, and plan!
Or search for any location in the UK, including full postcode support and local/national placefinder
Turn-by-turn itinerary view
Choose from different types of routing – fastest/quietest/balanced
Takes account of hills automatically
Plan journeys up to 100 miles (160km) long
Routes automatically saved for later viewing
Choice of map styles (including OpenCycleMap showing contours)
UK-wide (NB some areas of OpenStreetMap are better than others)
Routing for cyclists, by cyclists: your input to OpenStreetMap welcome
Photomap photo facility
Need some cycle parking in your area? Take a picture and add it to our Photomap
Obstruction in the way? Report it! Or found an example of great infrastructure? Add it!
Browse the existing library of 25,000+ photos
Full category and caption support
Fully-integrated upload with automatic geolocation
Locations used by campaigners around the UK
Integrated signin facility
Links:
Details:
Works on iOS devices (iPhone, iPad, iPod)
Free of charge
Requires mobile/wifi internet connection
For more info please contact us.