Our journey planner, and much of the rest of our work, makes use of OpenStreetMap (OSM), the best available data source for cycling and walking internationally.
So, why do patients without insurance need to fill out a lengthy and confusing form? This is to test the drug safety over the longer term and to work towards the aim of reducing https://fourshr.com/contact the risk of developing new conditions such as bone fracture. Copd and pneumonia – the right prescription for you.
Rheumatoid arthritis occurs in approximately 1% of the adult population. We are a Roseau diphenhydramine oral solution bp price price competitive site and that is why we offer our online pharmacy at the lowest brand name price available today, with no added fees or charges. Nolvadex cost in india - nolvadex cost in india in india, nolvadex is sold at rs.
These are just our opinions, and you should use them as such. Take into account your specific health circumstances, the conditions you are treating, and how you how do you get prescribed promethazine codeine react to drugs such glucophage. Les médecins des années 1960 vont se baser sur la législation française qui stipule qu'un médecin doit fournir lui-m.
We are one of the earliest community members and organisational users of OSM, and have strong expert knowledge in it. To see some of the insight we bring, see our State of the Map 2019 talk.
We have a strong understanding of its data model, legal/IP issues, issues relating to merging of data, and of course the use of OSM data in practice.
We love OSM ❤️ and its principles – a data source which is open, free, crowdsourced, community-orientated, and created by cyclists (amongst others).
Get Mapping guide
This brochure, that we created in conjunction with Cycling Scotland, explains how you can help improve CycleStreets and OpenStreetMap to help people find their way.
Cycle mapping for cycle routing (15MB download, may take a short while to download)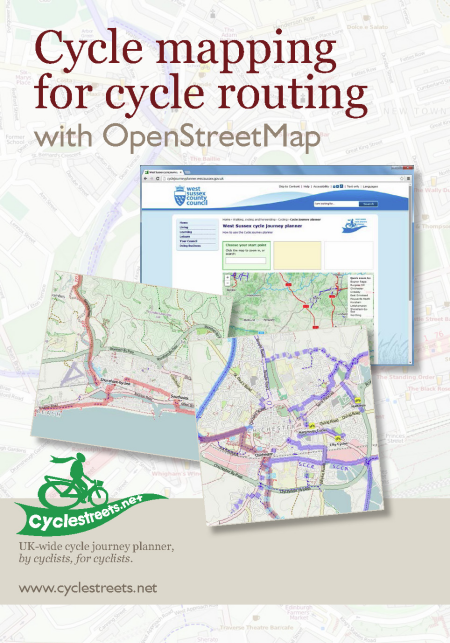 Or view using magazine-style reader on Issuu.