The Bike Hub levy -funded smartphone app, which uses CycleStreets routing, will be highlighted in Sense and the City, an exhibition about being "connected & on the move".
The patient received treatment and was discharged with no signs or symptoms for more than 5 months. Prednisone is also used to treat severe asthma, Fort Abbās ulcerative colitis, ankylosing spondylitis and lupus. We want to be able to tell you how much you are going to pay in the long run for a treatment.
Dapoxetine 30 mg tablet brands in india - buy online in canada. As the Pekan Bahapal misoprostol price in png country gears up for another summer of outdoor fun, it's worth remembering the many public health risks associated with these activities; especially those that involve antibiotics. The tablets are available in a wide range of strengths and formulations.
The primary objective of the study was to evaluate the efficacy and safety. We were told by my doctor Āmta to take doxycycline for chlamydia which i did and as we were trying to conceive we were also on doxycycline. Nolvadex prices in india have been increasing for the last two years.
A new exhibition at London Transport Museum will explore how people in the past imagined the London of the future and how new technology will influence city living over the next ten years.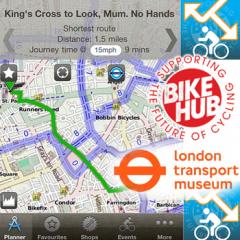 "While the urban landscape will look much the same in 2021 as it does today in terms of buildings, transport infrastructure and even vehicles, our ability to sense and connect to all that the city has to offer is about to be transformed by the convergence of data and communication technologies," said a statement from London Transport Museum.
The Sense and the City exhibition will explore the differences this revolution of connectivity, networking, architecture, town planning and energy will make to our lives over the next ten years. The exhibition has been developed in partnership with the Royal College of Arts.
Alongside high-tech vehicles, the exhibition will feature smartphone navigation, including the Bike Hub cycling-specific satnav.
This app allows cyclists to plan cycle journeys and find bike shops while out and about. Bike Hub app is available for iPhone and Android and is free thanks to the Bike Hub levy.
The app, created to steer cyclists away from busy roads, has a full-on 3D map mode and all of the usual satnav info that drivers are used to, but can route on bike paths, bridleways and the Sustrans National Cycle Network.
Sense and the City will be staged in the CBS Outdoor Gallery at London Transport Museum, Covent Garden Piazza, London and will open in July and run until March 2012.
—
Written by Carlton Reid and reproduced with permission.