The efforts of several local organisations and companies to get more people cycling in the Cambridge, the HQ of CycleStreets, has been recognised in the inaugural Cycle Planning Awards.
The awards ceremony is being held in Walthamstow, London on 14th September.
CycleStreets is a finalist in the 'Best Innovation' category for its free-to-use journey planning website. CycleStreets runs the UK-wide cycle journey planning website and provides data feeds for a wide variety of journey planning websites and apps, as well as crowd-sourced data collection and collision data viewing systems. They aim to help encourage new people to cycling, by giving them information on where it is convenient and pleasant to cycle, as well as helping existing cyclists find good routes that improve on their existing journeys or help them through unfamiliar areas.
Simon Nuttall from CycleStreets said:
"We are very pleased indeed to be shortlisted for this award. It validates the work we have put in to build a system that helps find effective cycle routes and to inform the debate about what constitutes practical infrastructure that will encourage more people to consider cycling as a viable option for some of their journeys."
Outspoken Training based in Cambridge are a finalist in the 'Best Behaviour Change' category for their work on a project called Bikeability Plus, which has operated in both Peterborough and in Cambridge. The overall aim of the project was to help build a better cycling culture within five primary schools and to encourage children, parents and teachers to cycle more often. The overall target was to increase those cycling to school at least once per week by 20%. The actual result was a 263% increase with more than 200 more children cycling to school each week.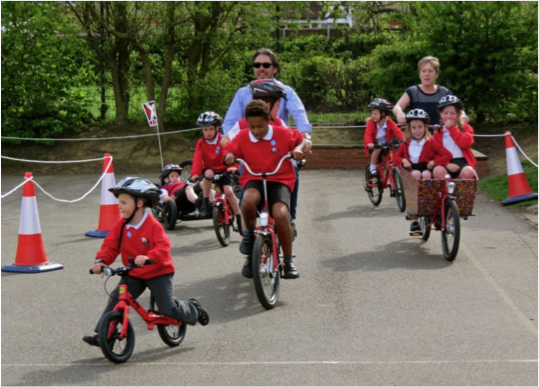 Rob King, Director of Outspoken said "To have transformed the cycling culture of a school in such a short period of time is amazing. We were particularly proud of our team of staff who made this happen through a whole host of exciting activities and challenges" One of the teachers commented: "Over the six weeks, all of our reception children learned to balance and then ride a bike. Some reduced their mums to tears having struggled previously."
Finally, Cambridgeshire County Council's Mike Davies is a finalist in the 'Cycling Champion of the Year' category, for his work on leading innovative cycling projects. He was nominated for the award by Cambridge Cycling Campaign. He shares the final in this category with the Mayor of Leicester, the Deputy Leader of Waltham Forest Council and the Regional Development Minister from the Northern Ireland Assembly. Mike said "I'm delighted to be a finalist in this award category. The work of many people including Council officers, Councillors, campaign groups, local businesses, cycle shops, schools and colleges, has all contributed to the success of cycling in and around Cambridge, and this is vital to ease traffic congestion and improve people's health, independence, and ability to access employment and training in a growing city area".