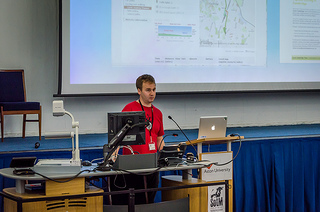 State Of The Map is the annual conference of OpenStreetMap (OSM), whose fantastic data we make use of to provide cycle routing.
We gave two presentations at State Of The Map 2013 which this year was held in Birmingham.
It's the annual gathering of people who collect street data as well as those who, like us, make use of it.
We gave two presentations, one on the range of websites and apps that use our cycle routing. The other was on a project within the OSM community that we've been running to encourage OSM members to merge in cycle route information from the Department for Transport.
You can view our two presentations here:
CycleStreets – more than a router (State Of The Map 2013):
England Cycling Data Project: