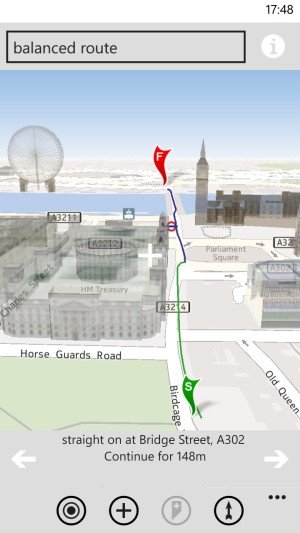 The first update for CycleStreets on Windows Phone is out now! As well as fixing the usual bugs, version 1.1 adds some great new features.
The new release brings along leisure routing, which is a great feature that can find a circular route around your current location that is of a distance or time of your choosing. Great if you're training and want to get in a 20 mile ride for example.
We've made big improvements to the reliability of the place name search when routing and also to the tutorial flow improving the overall usability of the app.
If you just want to save the route for later you can do that too and you won't need to be online to load it. And you can now share routes with friends via email, text message or social network (and they don't need the app to be able to view it).
We also have a free 24 hour trial that allows you to try all the features of the app with no restrictions for a day. After that you can choose to get in touch and let us know what you thought or hopefully go on to pay for the full app (only 99p!).
You can download CycleStreets for Windows Phone 8 from the Windows Phone store. We've got more updates coming soon to bring it in line with the app on iOS and Android but please get in touch to let us know what you want to see.
Added circular leisure routing
Load and save routes for offline use
Added a free 24 hour trial
Major improvements for location search and general navigation
3D navigation now has 3D buildings visible where available
Added share this route option
Added feedback form
Added rate this app prompt
Improvements to tutorial
Fixed lots of bugs
Thanks again to Dave Conley who has created the app!