We've issued version 2 of our iPhone app!
Get it free from the iTunes App Store.
It adds several great new features, including the ability to see a range of route choices and switch between them easily.
What's new?
Once a route is planned you can swap its type (fastest/quietest/balanced) directly
You can now mark a saved route as a Favourite
You can rename any route to give it a name (e.g. "Home to work")
You can now retrieve an existing route from the CycleStreets website by entering its number
When planning a route you can move the markers around
Calories and CO2 saving shown
We've created a new user-friendly photo-adding workflow
When adding a photo, you can now adjust/correct the geolocation
Location lookups are more efficient
Loads of UI tweaks
Various bug fixes
Please do give a review of the app in the App Store.
We reissued this release after a bug was found that prevented the app loading or planning routes – apologies to users who ran into this. Just get the new one and all should be fine.
This app has only been possible thanks to the hard work of volunteer Neil Edwards, who has added all the new features and done lots of restructuring of the code to make future updates easier to add. If you're an Objective-C programmer and would like to join our team, do get the code and have a look at the feature/bug ticket list. Thanks also to Ayesha who sorted out an updated high-resolution loading screen for the app.
Having planned a route, you can immediately switch to a different route type. The route listing display has also been enhanced, with the calories required to cycle a route, and the equivalent CO2 saved compared to a car journey.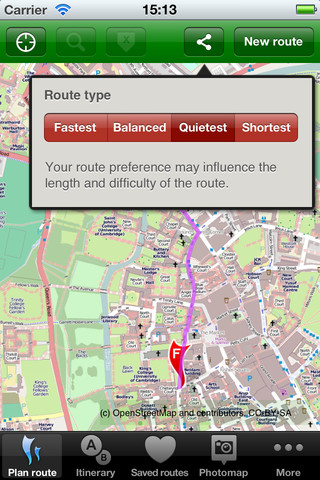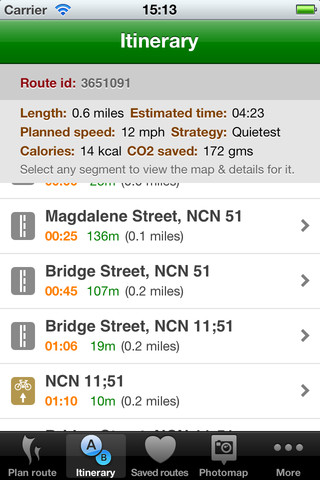 There's a new route manager too. You can remove, favourite, re-select and rename routes: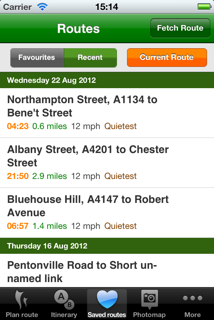 Cycle campaigners will also enjoy the new Photomap, which now has a simple wizard to add photos, including the ability to confirm the location of the photo. So if your iPhone hasn't picked up the location accurately enough, you can easily relocate it: