We're working on a major project, Cyclescape, a comprehensive online campaigning toolkit for UK cycle campaign groups, funded thanks to GeoVation. This blog post is cross-posted from the Cyclescape blog.
About three weeks ago we opened up Cyclescape to a test group, Cambridge. Their Committee have been using the system instead of the e-mail list they used to use.
On the right, you can see a planning application being discussed, with the location of the site marked out, and a list of the discussions.
In this three-week period there have been:
78 issues (problem reports and things to work on)
108 discussion threads (discussions connected to the issues)
789 messages (individual replies within the threads)
61 user locations (areas that people have set to be informed about changes in)
22 campaigning deadlines and dates
34 library items
151 pieces of feedback about the system, some of which are about tiny fixes, others about more substantial issues (most of which we know about)
Although there are unfinished areas (which have caused some user confusion) and some missing features, the testing has given us plenty of useful feedback, which we're working through before we open up the system for wider use.
How are people using the system?
"The use of maps at the centre of Cyclescape illustrates the point that if a picture is worth a thousand words, so is a map.  The maps really facilitate sharing issues and solutions to them. They also mean that you can easily filter which topics are relevant to where you work or live.
Cyclescape is also a big advance on email lists in the way in which threads can be followed and documents stored for future use in an easy to find location."
– John
We've seen discussions on, for instance:
Various local planning applications – on which it's been useful to see the location on the map
Smaller issues around a city
The Times "Cities Fit For Cycling" campaign
Administrative discussions (organising day-to-day things)
Organisation of a cycle ride – which again the geographical location provides useful context
Addition of some items to the resource 'library' which will be useful for future discussions
There are signs that the ability for people to subscribe only to things they're interested in, based on geographical location(s), should work well – so that people can be involved in things they care about – but not overwhelmed with issues.
We've seen some confusion over the difference between 'issues' (problems) and 'threads' (discussions of those issues), which further interface work will address.
Key themes
Some of the key themes, on things we need to fix, are:
The need to reorganise the various listings screens, which are currently not in their final positions. This is an area we knew would need quite a bit of iteration work.
Making sure that maps are viewable in a few places where they're currently omitted.
Reducing the 'friction' between issues and threads. We want to encourage people to locate issues geographically when possible. To some extent this will be improved naturally as the listing screens get reorganised and as we fix up parts of the design that were not finished when we went live.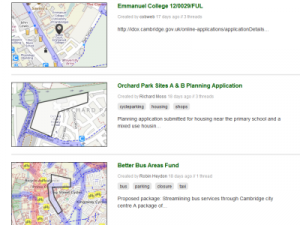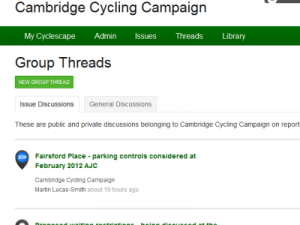 Various layout fixes to add some more polish and improve usability.
Further work on e-mail integration. Many areas work, but some kinds of notifications can't be replied to by e-mail yet, and it's not yet possible to start a thread by e-mail.
Very active campaigners have asked for an 'opt-in to everything by default' setting, so that they get told about everything, and can opt-out when not interested (rather than merely getting told about something new in their area). This would save them having to subscribe to each issue or discussion thread as it comes in.
There have also been some compatibility problems with a certain web browser… Internet Explorer!
An example problem that we need to fix – city-wide issues are overlapping and obscuring others, so a fundamentally different approach for city-wide issues might be needed, e.g. a separate listing screen or maybe a button to show these: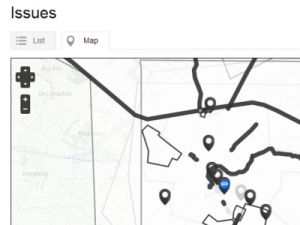 Usability testing
We've also done some individual usability testing, which has thrown up 35 actionable issues. Around half of these were things known about and planned to be fixed, but the others provided useful insight.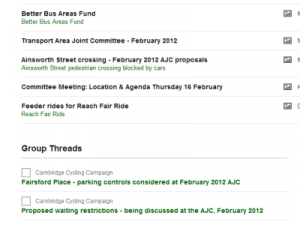 Next steps
We're busy working on fixes for the above, as well as creating more guidance on installing the system for coders who want to get involved. Technical people can watch progress in our Github repository.
Stay tuned to the blog in the coming month as we talk about the latest changes and showcase the system's features. We're working as fast as we can, within the available funds, to get the system ready for wider use!