We've had a busy year, and we'd like to thank everyone who has helped out with the CycleStreets project – whether that's helping with development, design, promotion and word-of-mouth, mobile coding, and more.
As you can see, since our launch in March 2009, usage has grown very considerably this year.
We've planned almost 1.4 million cycle journeys, covering some 23 million km as the crow flies, equivalent to cycling to the moon 60 times!
It's been incredibly heartening to see so many great comments from users of CycleStreets on how it's helped them find better routes or start cycling.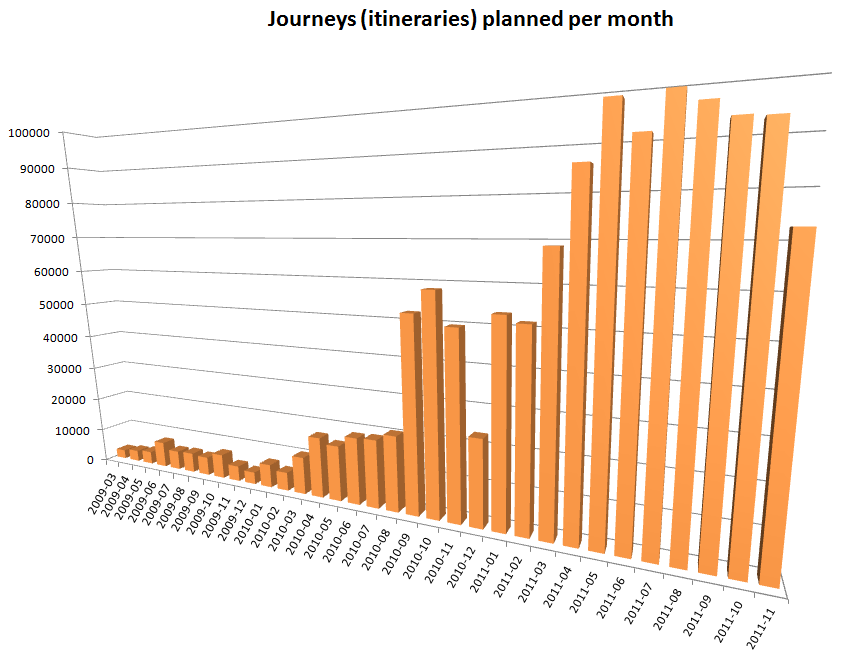 Major projects this year
The year for us has been dominated by a number of funded major projects.
Work for the bicycle industry to create a Leisure Routing mode for the great cycle satnav app, Bike Hub (which uses our routing). Leisure routing is a new kind of routing, exclusive to the app, which enables you to plan a circular route lasting a specified time or distance. Read more about this great new addition to an already brilliant app.
Work with the Department for Transport to open up their cycling data. We've been helping the DfT with their very laudable objective to open up the cycling data they collected as part of their Transport Direct system. This detailed cycling attribute data has the potential to enhance the quality of cycle routing, by adding things like surface quality, cycle lane widths, missing pieces of data. We've funded some development work on a merging tool for the main OpenStreetMap editor, Potlatch 2, which we hope will be of wider benefit for other datasets also. The data is now almost ready for release following a lot excellent work by the DfT and its main contractor – stay tuned.
Cyclescape, a comprehensive online campaigning toolkit to assist cycle campaign groups around the UK. We're able to create this thanks to funding from GeoVation. Earlier this year we won a Dragon's Den -style contest to create a website that would build on our Photomap of 30,000 images, and provide a way for cycle campaign groups around the UK to work more effectively to solve cycling infastructure problems in their area. The website will be launched shortly, and we're moving into beta with it after months of solid work. You can read more about this on the Cyclescape blog.
Work with Cycling Scotland to improve cycle journey planning in Scotland. We've been undertaking a range of projects to help motivate improved data collection and usage. This work will be finished shortly, and will see a journey planner on the Cycling Scotland website and a new guide to assist local communities with data collection for OpenStreetMap.
Hosted journey planners for London Cycling Campaign, West Sussex County Council, Bike Hub and others soon to launch! Read more about our offering of customised cycle journey planner sites and see the brochure for Local Authorities we created.
Other projects
As well as these funded projects, we've been working on several other areas of our core offering:
Continual improvements in route quality: We're continually tweaking the routing engine to make the routes better and better, partly in response to the great feedback we get from users. In the summer we added partial support for surface quality data (something we'll be building on soon), and earlier we undertook some work to make routes more 'sticky' to the Sustrans and Local Authority cycle networks where they exist.
Faster routing: The routing engine is now much faster than a year ago. Even when we've had a load spike, the hosting has barely flinched!
Mobile apps on all the major platforms have been released. As well as our free iPhone app, which has seen many improvements over the year, we've released a well-received and fully-featured Android app and a Mobile web site which works on Blackberry and other platforms. All of these are open source projects, and we encourage people to join our brilliant volunteers who have been working on the apps so far.
A lot of work on resilience: Simon has worked extremely hard since the summer to improve the resilience of the system in many ways: Backup, fallback, easier importing of data, scripting various administrative tasks and so on.
Points of Interest: We've got a new set of webpages and an API for points of interest (shops, cash machines, leisure locations, etc.). We hope to integrate this much more closely with other parts of our offerings in coming months.
Lots of other little changes: Addition of CO2 and calorie counts, an increase in the journey planning limit to 200 miles, little usability fixes, reworking of the Photomap pages, railway station codes in searches, new Photomap listing modes, promotional flyers you can order, clickable icons for the London Cycle Hire website, a 'cycle to us' link facility, an integrated map editor installed, etc.
Photo of the day: We hope you've enjoyed our Photo of the day feature, if you've been following us on Twitter!
What about next year?
The main areas we're going to be working on are:
Support for advanced routing data (work in progress) according to an advanced ruleset we've been considering
Drag routing (waypoints in the interface)
Expanding to other countries
Open sourcing (the main barrier at the moment being lack of modularity in older parts of the code)
Reworking the feedback system so that we can get lots of OpenStreetMap volunteers involved
OpenStreetMap – a solid foundation
CycleStreets wouldn't have been possible without the brilliant OpenStreetMap (OSM) project, whose data we use. OSM has gone from strength to strength, with many areas of the country seeing far more detailed data than this time last year.
It's a volunteer project which anyone can contribute to. So whether there's a newly-added cycle lane near where you live, a bike shop has opened, or whether the surface of a path is unsuitable for cycling, you can contribute that information – just edit away.
If you've appreciated the work of the people who've created the map, please donate to OpenStreetMap to help keep it running fast.