Jez Higgins is the lead developer of our Android app and has been working on lots of useful new features. He writes:
The new update to the CycleStreets Android app was released to the Android Marketplace this week. If you already have the app installed, it should update itself automatically. If you don't have it installed, you can read about it in an earlier blog post and download it from the Android Market place here – for free.
This updates adds:
New Points of Interest main menu option. Show points of interest, including cycle parking, pubs, cafes, post boxes, and London Cycle Hire points, on the route map. Choose the icon size from the settings menu.
New main menu option Open route number. Want to load a journey you planned on the website? Just type in the journey number and off you go. Journey number is also shown on the itinerary tab.
Saved routes can be renamed. Press and hold on a saved route to bring up the menu, then choose Rename.
CO2 and calorie savings: Itinerary now includes the estimated CO2 saving from cycling rather than driving, along with the calories used on the journey.
Please do give a review of the app in the Android Marketplace! (Click on 'User reviews' then 'Write a review').
The Points of Interest menu option brings up the POI selection menu. You can choose as many different categories as you like, and they will be overlaid on the route map.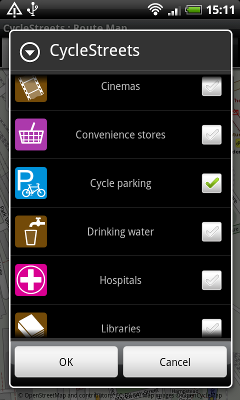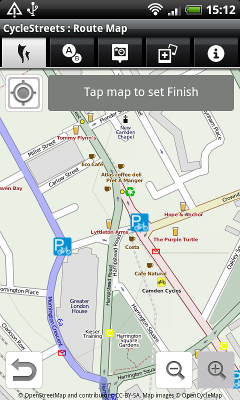 Tapping on a POI icon brings up a bubble with more information. Tap the icon again to dismiss the bubble, or tab bubble itself to start or end your route at the POI.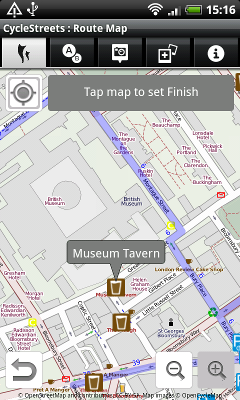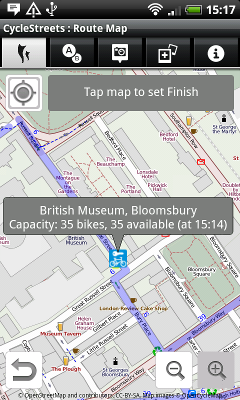 You can choose the size of the onscreen icons from the Settings screen.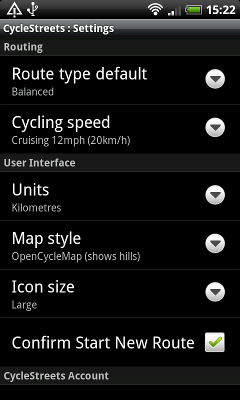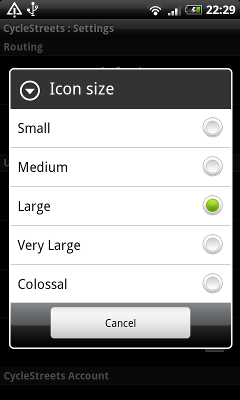 The Points of Interest facility uses our POIs API available to mobile apps. It's basically a convenience function replicating the same data in OpenStreetMap. We've focussed on practical location types in this app, as our main focus is on everyday, practical journeys.
Every route planned by CycleStreets is given a unique number. Journey number 1332563, for example, guides you from Euston Station to the Natural History Museum. Perhaps you planned a route on the website you now want to open in the app, or maybe someone emailed the route to you? Whereever that number came from the Open route number menu option lets you type it in open the route with the app.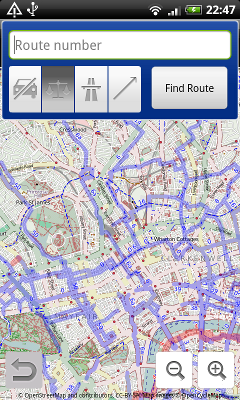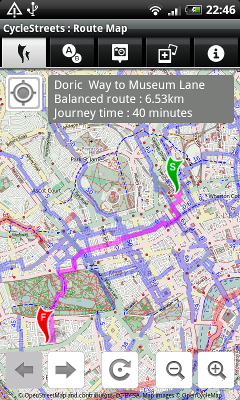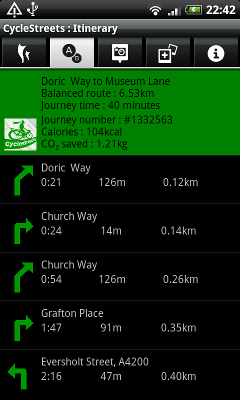 If you'd like to help out with our app, perhaps to add new features, do grab the code and hack away!