This is a guest post from Carlton Reid, executive editor of BikeBiz.com and the editor of BikeHub.co.uk, who commissioned and helped designed the great new Bike Hub app which uses our routing!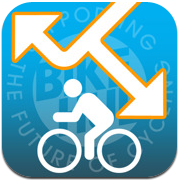 Less than 24 hours after hitting iTunes, the Bike Hub journey planning and bike shop finding iPhone app snuck into the top ten free navigation apps. Result!
The reviews have been overwhelmingly positive. 10 out of eleven reviewers gave the app the top score of five stars (one curmudgeon gave a lowly one star but that's tinternet for you).
Wonderfully for Cyclestreets, the majority of the reviews have been praising the routing.
Bike trade veteran Nathan Bellamy (an iTunes reviewer of note, having rated 18 previous iPhone apps) wrote: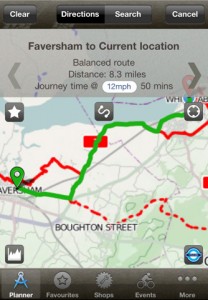 "I've got to hand it to you, this is good. I've checked the route to my local town 7 miles away that has a choice of 4 similar routes but some are riskier or hillier than others. This app will be invaluable in London and has introduced me to the OpenStreetsMap project, which I will help update."
Double result.
'SpokesWithNoakes' wrote:
"I've tested this on half a dozen of my carefully 'optimised for cycling' routes, some including off road paths/cut throughs and it's returning routes very close to the ones I use. A strong first release."
Clearly, people love the routing and many appear to believe it's a bespoke build for the Bike Hub app rather than being an app powered by the algorithmic wonderfulness of Cyclestreets.net.
Not that we keep it quiet. There are Cyclestreets mentions all over the app but the mobile nature of the app is clearly adding something potent to the mix.
The app is free on iTunes because it was funded by Bike Hub, the UK cycle industry's levy scheme.
Over on Twitter, the reaction to the app has been almost overwhelmingly positive, and not just because it's free. Blogger Karl McCracken wrote "app looks amazing – very, very impressed!"
Mind you, you can't please everybody. Industry veteran Brant Richards of Shedfire fell into Grumpy Old Man mode when he quipped:
"How on earth did we survive before we had iPhone cycle planning apps?"
I replied "… or before we could get cut-through advice from local riders? There's now an app for that."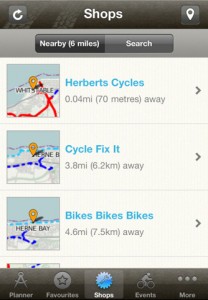 There are tons of extras on the app, but the routing-that-feels-like-you're-a-local is the app's key strength. I found this out last week in London. I planned a route from Kings Cross to the Look Mum No Hands bike shop on Old Street. The app took me on a route I wouldn't have otherwise taken and I had to trust in the app rather than my own judgement on one section of the ride.
I had over-shot a three-way junction and felt the map and the app must be wrong. There was no junction, just a left-hand turn. The old me would have ploughed on, blaming technology. The new me with a beta app to test backtracked to what I thought was going to be a 'ghost' junction. Lo and behold there was a ten-metre long cut-through, which I'd have to walk. I hadn't noticed the cut-through at the turning point. It was still pretty small and insignificant. Entering it, the cut-though opened up like a cross between Diagon Alley and The Land That Time Forgot.
I walked through and on the other side a new vista awaited: a dog-leg street that led to some quiet, hidden roads I couldn't quite believe existed so close to the traffic-choked thoroughfares I'd normally chose to navigate along in London.
That cut-through was added to the OpenStreetMap by somebody; a local probably. Using the Bike Hub app is like being able to call on a friend who knows all the clever short-cuts.
I commissioned and helped design the app so if *I* had that sort of epiphany, I can imagine this app – and the one from Cyclestreets itself – will help tens of thousands of people to find new and clever routes. More cycling, more often – the catchphrase of Cycling England – could very well be the result.
Cyclestreets in the palm of your hand is liberating.
Carlton Reid is the executive editor of BikeBiz.com and the editor of BikeHub.co.uk, the levy funded news-and-features website taking over from Bikeforall.net
Get it at: http://itunes.apple.com/gb/app/bike-hub-cycle-journey-planner/id391782662?mt=8