Please join us in welcoming our new intern, Patrick, who is working over the summer as a paid employee on the CycleStreets code. He'll be working to add new API calls, add new features, refactor older code so that we can move the codebase forward, templatise sections so we can redesign them, and more.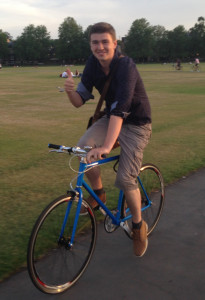 Patrick, tell us a bit about yourself.
I'm a post-grad student at Cambridge University, studying Education and Choral Studies.
What are some of the programming projects you've worked on before?
I had a great time in Germany connecting a massive pipe organ to a MIDI enabled interface, and playing that huge instrument from my computer. More recently, I programmed a music generator in PHP which creates random pop music.
What interested you in getting involved in CycleStreets?
I've always gotten around by bike in Cambridge and Düsseldorf, and I used the CycleStreets app quite a bit before seeing the blog post advertising the summer intern position.
What are you most keen to improve in our system over the summer?
Adding API calls is quite satisfying work, because it's very exciting to see how developers implement these calls in their apps.
What have you been working on in your first week, and how is it going?
I've been focusing on splitting some functions into page, model and api classes, which facilitates templating the layout of the site and cleans up some messy code. I've also added some new functionality to Galleries.
Patrick will be posting over the summer on the fruits of his labour.