This year the Cambridgeshire Cycle Challenge is running from Monday 15th September to Sunday 12th October and is a fun and FREE web based competition to see which businesses can get the most people cycling over the four week period. There's still time to sign up!
The Challenge is open to all businesses in Cambridgeshire and aims to increase the uptake of cycling by encouraging more new people to cycle to work and spur on people who already cycle to do so more often. Following on from Le Tour de France's exciting visit to Cambridge and South Cambridgeshire in July, the Challenge is a great way to continue the cycling spirit. Any member of staff can take part by initially registering on the challenge website.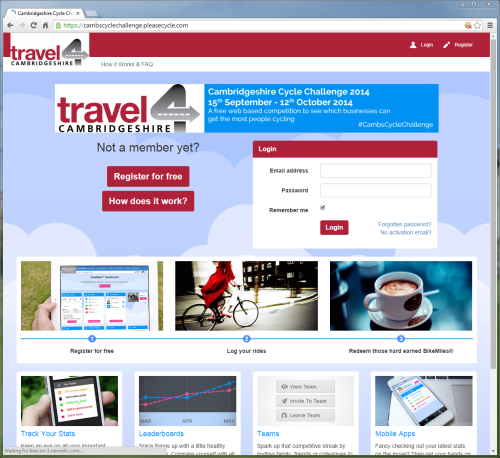 Once registered participants record every journey they make (both to work and for leisure) during the four week period, on the website via computer, or on a tablet/smartphone. For tablet and smartphone users a PleaseCycle mobile app is available for free to download and includes GPS functionality so that journeys can be tracked as the user cycles and are automatically logged to their account.
There are lots of prizes for different categories of riders (e.g. novice, rusty rider, intermediate and advanced), awarded weekly as well as overall winners – so regular cyclists will not ride off with all the prizes! In addition prizes will be evenly distributed around the districts of Cambridge City, East Cambridgeshire, Fenland, Huntingdonshire and South Cambridgeshire.
CycleStreets is one of the partners, with our journey planner available within the website: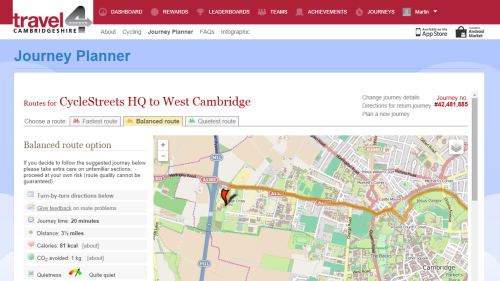 The website also includes facilities to enable employer office locations, departments and teams to compete against one another as well as other employers. This is a great way to encourage friendly rivalry and at the same time promote cycling.
The Challenge is being run by our friends at PleaseCycle and Outspoken on behalf of Travel for Cambridgeshire (formerly the Travel for Work Partnership) and Cambridgeshire County Council.