A new release of our iPhone app is now out. Go to the app store updates page and update today, or download the app if you don't already have it (it's free!).
Version 1.5.1 fixes various reported bugs (including the 'freezing map' bug that affected some installations).
So what's new?
Firstly, we've made various improvements to the itinerary listing page. There are more icons on the listing view to help distinguish the type of paths you'll be cycling on. We've also rearranged the itinerary map view to put the left/right buttons nearer your thumb, and enabled the Photos-en-route to be disabled. In areas like London and Cambridge these sometimes obscured the road names.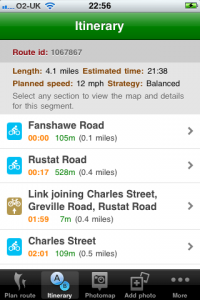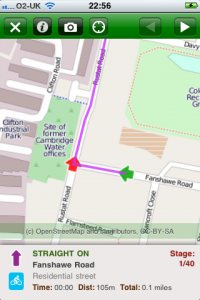 We've also added a new feature for Ordnance Survey fans – the OS Street View (open data) map is now available experimentally. You can switch the app over to this OS style (or to OpenCycleMap) on the settings page.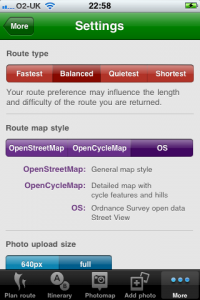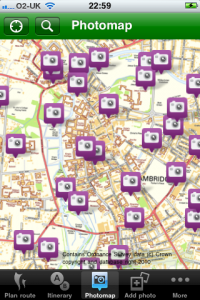 Next, the OpenCycleMap map view works much better. This is the second map option which highlights cycle paths and shows hills.
The app was previously using an older and slower map server (entirely our fault, not Andy who runs it!). We've updated to the recommended server, and ensured that you can zoom all the way in. As a result, OpenCycleMap now loads much quicker and in all its beautifully detailed glory!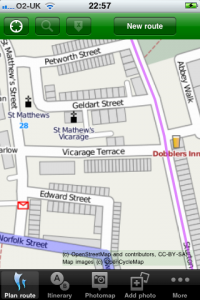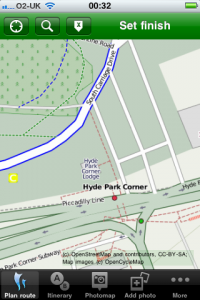 Station codes have been added to into the search results – a mini-feature which some people will find useful.
If you take your bike on trains, or perhaps travel to London before hopping on a boris-bike (or indeed now to Newcastle on a ScratchBike!), you can enter the station code (e.g. KGX for King's Cross, CBG for Cambridge), and the app will find that directly. This is particularly useful if you regularly make cycle journeys to/from particular stations.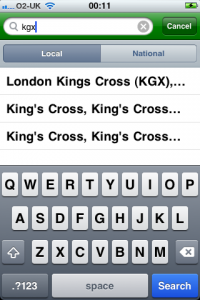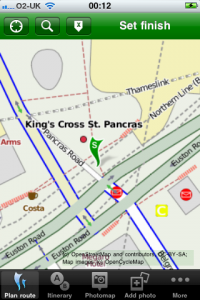 The full list of changes is:
OpenCycleMap map style now loads faster and to a higher zoom level.
New Ordnance Survey map style option (OS open data Street View).
Can now search for stations using the station code (e.g. KGX for King's Cross)
Better support for journey road types.
Ability to toggle route photos on/off in the itinerary view.
Freezing map bug fixed.
Bug fixes and UI enhancements.
An open source project – developers wanted!
This update to the app is thanks again to the hard work of Neil Edwards, who has done a few more days' work on it in his spare time. We can really recommend Neil if you need any iPhone app development doing.
The app is open source, and we'd really welcome volunteers to join our team. The code is on GitHub is available, and there are a range of new features and fixes we'd like to add – both small and big. So if you know Objective-C and would like to contribute to an app that's planned over 2 million km of cycle routes, do get in touch. Neil will be doing a tech posting soon, but don't let that hold you up.
Other platforms
Users of other types of phones need not feel left out … Our Android app will see another update soon. And our mobile web site is almost ready for release, meaning Blackberry/Windows/Symbian owners should have access to our routing on the go shortly – stay tuned for a blog post soon.