CycleStreets makes heavy use, as many people will know, of OpenStreetMap data as the basis of our street/path network for route planning. For us, the ability of the community of cyclists and others to contribute to this data is an important part of the effectiveness of CycleStreets.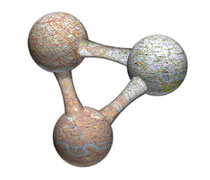 But, lesser-known, is that we also make use of several OS OpenData datasets for various parts of the site.
OS OpenData is part of the many datasets offered by the Ordnance Survey. But unlike many commercial datasets, they are open data, allowing not-for-profit groups like ourselves to use them. The first release of OS OpenData was announced on 1st April 2010, a decision by the government and the OS that has been widely welcomed.
We thought we'd outline the datasets we use in various ways.
Firstly, the postcode database, Code-Point Open®. This enables us to translate postcodes to a point on the map. We were the first users of this open data – implementing the postcodes within hours of it being released. MySociety have helpfully converted the Code-Point Open dataset into latitude/longitudes rather than grid co-ordinates.(Code-Point Open is not to be confused with the Postcode Address File (PAF), which is a commercial product of Royal Mail, and which we do not have funds to purchase. The PAF enables individual house/address locations to be accurately located.)
Secondly, we use the Boundary-Line™ dataset to enable photos added to the Photomap to be assigned automatically to London boroughs and soon other boundaries around the UK. This dataset will also come in useful soon for our Cycle campaigner toolkit project.
Next, the OS Street View® dataset is being used by some OpenStreetMap volunteers to augment areas of OSM in the UK whose level of completion of street coverage is lacking.
Lastly, we're using a projection of the Street View dataset in our Android app and forthcoming mobile web site.
The OS OpenData datasets have enabled us to improve the facilities on CycleStreets. The postcode data in particular has been invaluable. It has helped us as a community organisation create a useful facility at low cost.
Update, Sunday 31st July: The Street View tileset is also now available as an option on the main site – just click on the blue (+) button in the top-right corner of the map panel: