We're pleased to announce the launch of our updated iPhone app – version 1.5.
So what's new? Well, it's mainly a tidy-up release (looks prettier!) with a few new features. We've also been getting the app ready so we can add new stuff next.
The itinerary shows route summary details – a much-requested feature
Addition of Shortest route as new route type – for those who like hills (since this mode ignores hills!)
Fewer geolocation requests, so battery lasts longer
Nice new icons throughout (thanks to designer Jamie)
New settings page
Various screens redesigned
Tidier interface for planning
Tile refreshing more frequent, to avoid stale map images
Clearer 'Start' and 'Finish' markers
Confirmation dialog when setting a marker
Various bug fixes
Code rewrites to enable future new features
Download the updated version from the App Store, and please do review the app!
This release has been the hard work of Neil Edwards, who also wrote the great Red Nose Day app earlier this year. Neil's contribution to the CycleStreets project has been tremendous, and his changes set the scene for future improvements.
The top priority feature for our next release will be the ability to switch directly between different route types, e.g. change to fastest route having planned the quietest route. We've added this to our other apps for Android and mobile web (under testing).
If you'd be interested to help develop the code, please do get in touch! Here are the features we'd like to add – can you help?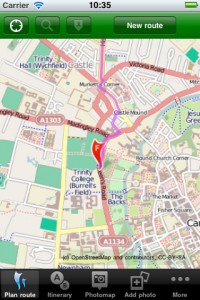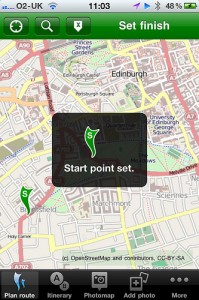 The itinerary screen is now a bit more helpful, with the route summary shown and walking bits more obvious: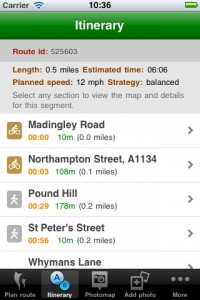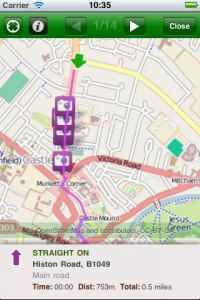 We love Jamie's new icons for the Photomap (which have also been used in our other apps)! :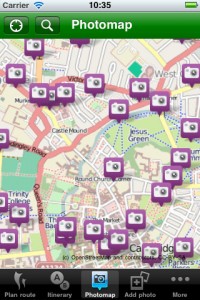 Settings and saved routes are also improved – and you can see that Shortest route is a new option now available (though in practice the routes are not as usable, since it's not a very clever form of routing – it really is just the shortest route!) :