Dogfooding, for those who haven't come across the term, is programmers' jargon for 'trying out your own product', i.e. eating your own dogfood!
While cycling around in London recently I made use of two great cut-throughs, thanks to our iPhone app and the great mapping done by OpenStreetMap folk.
These are the kind of cut-throughs for bikes which would never have found these looking on the default map/routing on the device.
Kingston: South to central
A lovely cut-through across the river and near the University.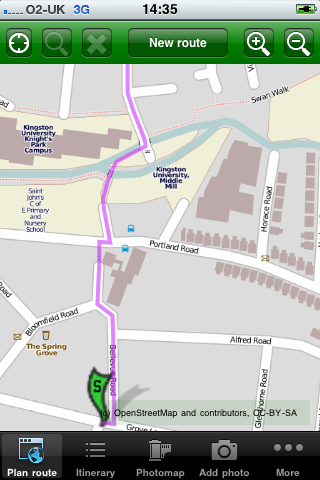 I later also took the opportunity to add a location needing cycle parking, at some nearby shops, for the Cycle Parking 4 London campaign.
Waterloo to King's Cross
I often need to do this route, and for a long time I've gone along Euston Road and straight down Russell Square, which I've never liked due to the traffic.
Instead CycleStreets found me a tiny cut-through off Guildford Street, which led to a direct and fairly traffic-free experience running parallel. (The cut through seemed ambiguously signed, so might be a short dismount section, but still worth it for the rest of the journey.)
I did find that the Drake St junction has changed a little from what's on the map, so I've added this to the OpenStreetBugs website (I could have reported it via our own feedback system, but that would be like sending myself e-mail!), so that it can be resurvey soon by a local OSMer.
If you like the app, please do give us feedback in the App Store!