Many thanks to all our users and supporters who voted for us recently in the Future Friendly Awards. Voting amongst the entries was apparently 'nail-bitingly close'.
Sadly, we didn't win, but congratulations to The Project Group whose excellent project won the £10,000 bursary.
We were pleased to learn from one of the Future Friendly organisers that some 200 entries to the competition were made, so we were extremely pleased to be in the top five!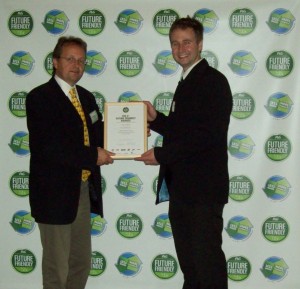 The awards ceremony took place in the very grand surroundings of Syon House in West London. Although of course we would normally have cycled to such events we succumbed and took up the offer of a low-emission taxi. It was the first time we'd been in one of these vehicles. They are eerily quiet as they sit in the car park and move off silently. So quiet in fact that pedestrians don't realise there's a car present until they see it and jump back in mild panic. (This reminds me of the 'silent menace' label sometimes Cambridge cyclists are given as they use the 'pedestrianised' streets of the centre – where cycling is now permitted.)
The dashboard on these vehicles has a large panel of flashing bar-charts which seem to convey a sense of the energy efficiency of the vehicle. Our chauffeur admitted that he did not know what it all meant but that the vehicle had less emissions largely because he spends a lot of time inching forward in heavy traffic when the petrol part of the car can go onto standby mode.
We had a good chance during the evening to chat to the other entrants to this awards scheme. The final projects were all worthy causes tackling the difficult and complex issue of reducing human impact on the environment – and each in quite different ways. The winners were throughly delighted and were wearing their own creations – recycled materials used as fashion accessories and clothing.
Although we didn't win the award, the ceremony and the recognition are strong indications that 'we are doing something right'. The publicity we've got from the process has helped grow awareness of the CycleStreets project and is huge encouragement for us to carry on.
But the search for funding continues, and we're in another awards short-list, for which we'll need your vote again.