OpenStreetMap, the project whose road/cycling data makes CycleStreets possible, has recently acquired a dataset of all bike shops in the UK from the Association of Cycle Traders, for the purposes of merging this dataset into the OpenStreetMap database. We are enormously grateful for the ACT for this data.
We need your help to merge this data into OpenStreetMap fully! Andy and Shaun from OSM have created a webapp for the specific purpose of merging this data into OSM.
The bike shop locator is a simple web app to help OpenStreetMap contributors to map all of the bike shops in the UK. As all of the shops supplied are only as accurate as the postcode, an import would not be good. This app is also a significant improvement over the previous method of using a wiki page to track whether all of the supplied list is in the OpenStreetMap data.
To use it:
Go to the map view of the new tool.
Click on one of the orange circles in your area and follow the link to that shop's location.
Go to the link at the bottom of the page ("Show local area") and click on the Edit tab to go into the OSM editing view. You can then add/remove/edit the bike shop location in OSM.
This guide to adding a bike shop may be useful for novice OSM editors.
Once the data in OSM is correct, on the bike shop page of this new tool, click on either "This is in OSM" or "Not found on the ground".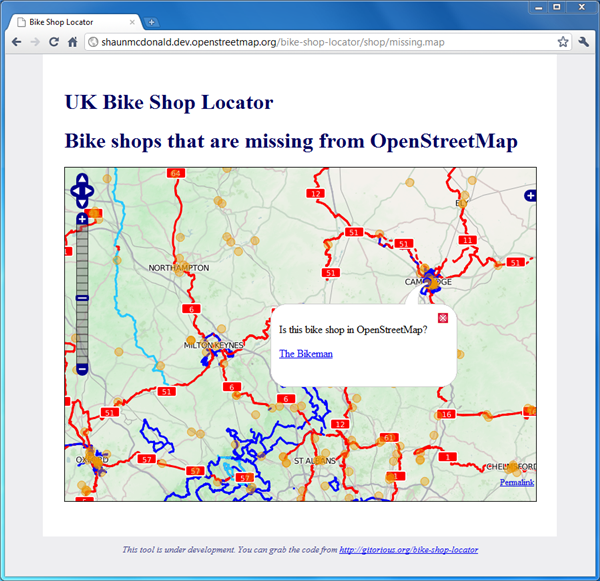 CycleStreets acted as the go-between between the ACT and two of our OpenStreetMap contacts Shaun and Andy, both of whom are great supporters of our project. We are enormously grateful for the ACT for the data, and it is to be used in the forthcoming new (and free) Bike Hub iPhone app, which we're really looking forward to, not least as (like our own app, now in review at Apple) it features CycleStreets routing!
OpenStreetMap as a community tends to be cautious about mass imports of data because it can clash with existing data. A fair number of bike shops are already in OSM, and so this data should help get full coverage more quickly.
At present the bike shop data coming from the 'places' part of our API is the raw dataset we received from the ACT, as merging into OSM naturally takes time. Once that is done, however, we will internally switch to pulling the data from OSM as it will have increased accuracy then.