PRESS RELEASE: Londoners urged to get on their bikes to beat the tube strike
With the onset of tube strikes, Londoners are urged to get on their bikes this week. But many people don't know good cycle routes around London – and traditional online maps don't know about shortcuts, park routes and quiet routes for cycling.
London CycleStreets – http://london.cyclestreets.net/ – is the answer. Click/search on a start and end point for your journey, and London CycleStreets will give the fastest, quietest and a third 'balanced' route option, specifically designed for cycling.
Developer, Martin Lucas-Smith, said:
"Cycling is a great way to get around London. But if you've not cycled for a while, you may not be aware of the many shortcuts and quiet routes that exist. Beat the strike by searching online for London CycleStreets, or and get personalised cycle routes around London."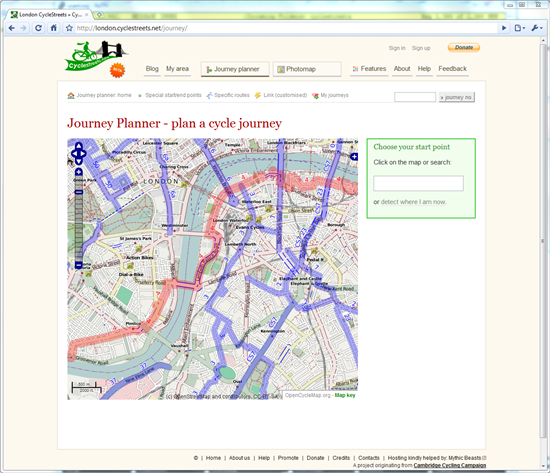 Notes for editors:
The site is free to use.

The London journey planner is part of a wider UK-wide site, at http://www.cyclestreets.net/. The site is in 'beta', i.e. prior to a full release. Over 200,000 journeys have been planned during the beta phase.

CycleStreets is a journey planner "for cyclists, by cyclists". CycleStreets Ltd is run on a not-for-profit basis.

A mobile phone version of CycleStreets will also be launched later this month. CycleStreets routing is also being used in some of the mobile phone apps for the London cycle hire scheme: "Cycle Hire App" and "London Bike App". For more information see: http://www.cyclestreets.net/blog/category/mobile/

For more information, drop us a line.