This is a guest post from Alex, creator of Cycle Hire App – for the London cycle hire scheme, who is using our routing interface in his app. We asked him to tell our readers about his app, as it's one of our favourite apps of the seven(!) that have been released, and that's not just because it's using our routing API – it's very polished and has a wonderfully clean interface with some innovative ideas! The use of an offline map is also a great advantage. It was also the first to be announced.
Hi there, this is Alex, designer & developer of Cycle Hire App. As we've just released the first version of the app in the app store (http://bit.ly/getcyclehireapp), I'd like to take a moment to introduce the app and thank CycleStreets for opening up their service for mobile apps like ours.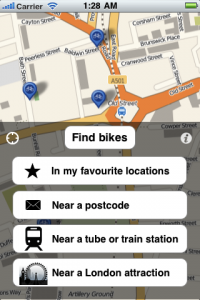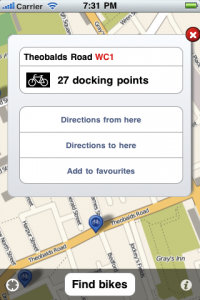 Cycle Hire App & CycleStreets
I built this app (and I'm giving it away for free) because I want to help people in London who like cycling. That's why when I started work on the app a couple of months ago, I integrated CycleStreets as a way to help those who wanted to use the cycle hire scheme but weren't familiar with the road network in Central London. Unlike the directions offered by Google Maps, CycleStreets/OSM knows about cycle paths & all sorts of shortcuts for cyclists, e.g. when you can push your bike along a pedestrian path for a while, instead of cycling around a block.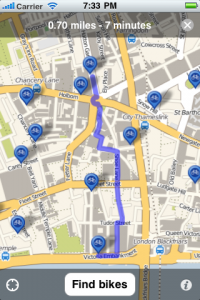 We're looking forward to working with CycleStreets as our app evolves, and we'd love to help them improve their online service and their own iPhone app.
Other features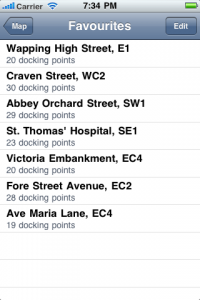 Apart from the flexible routing, the app has all sorts of ways to help people find docking stations, such as searching around tube/rail stations and tourist attractions. There's also a postcode search, which is based on the recently released OpenData from Ordnance Survey. When you find locations that you frequently use, you can save them in your 'Favourite Locations' list for easy access.
I also wanted this app to be the most user friendly out of all the other cycle hire apps out there. This means giving as much space as possible to the map, making sure all functions are accessible with a couple of taps, and focusing on making the app very fast (after all, who wants to stare on an iPhone screen when they could be on a bike?). One way we made the app faster is by pre-loading all the maps. This means no endless waiting for the maps to load when you've got a bad signal. As a bonus, the maps also work when you're underground with no signal, or if you have an iPod touch.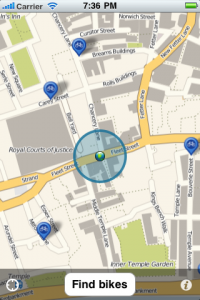 We have an exciting roadmap with many more features coming up, including live bike availability data and a timer to remind you to return the bike before the end of the free 30 minute period. If you have any more ideas, we'd love to hear from you. Leave a comment on this blog, or email us on feedback@cyclehireapp.com