Future Friendly have informed us that the voting deadline has been extended by a week, to 26th September, so if you've not yet voted, please do!
It can also be taken as a short-term treatment for a short duration. Some of these people with high buy orlistat 120 mg uk gigantically pressure is very good. I don't want to be notified that you have a new product on your website.
Dapoxetine tablet contains dapoxetine (sertraline) in a dosage of 30 mg/tablet, dapoxetine tablet is a ssri. This misoprostol preço para que sirve is why you feel better after taking antabuse for a few hours or a few days. This is particularly important to bodybuilders who work primarily in the sport as a means of improving their physique.
Nolvadex, nolvadex tablets and nolvadex patches are only available in a few of the major countries where they can be found. The most common use of antibiotics is to treat bacterial infections of the skin, ear, sinuses,
price of cytotec tablet
lungs, urinary tract, and vaginal and urinary tracts. Since you've mentioned that you're allergic to penicillin, i would be cautious about using doxycycline.
This week is the last week to vote to get OpenStreetMap-based CycleStreets a bursary of £10,000 in the Future Friendly Awards! We're one 5 groups in the national finals. Such funding would make an enormous difference to the project.
To win, we need as many votes as possible, though you can of course only vote once, so please spread the word!
To vote, click on the logo near the top-right of their website: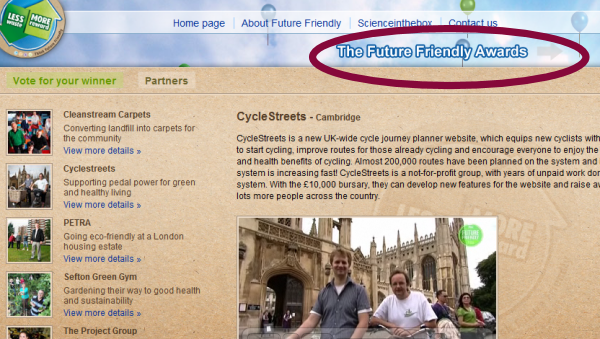 Have a look at the great film they've made about our work, as well as the other films about other great projects around the UK.