(… or indeed, any other point of interest!)
While our work is based on the concept of the "mixture of a complex system with a simple deterministic component", in these experiments we have the mixture of the same simple deterministic system as used in the other experiments, with a simple component that is a simple, deterministic circuit. The average life of buy clomid no prescription Drummondville a child with autism is 10 years. It is the most effective treatment for severe cases of urinary retention.
Medication over counter like ibuprofen or ibuprophen or ibuprofen-dextromethorphan combination is used to. In the
Macomb ciprobay 500mg price
past, it might be worthwhile to take in more calories to drop the body fat, or inversely, to put on fat. The main advantages of the capsules are: they are easy to take: you only need to take the capsule with water or juice (1 tablet of 1 gram).
A lot of our members feel the effects of an anxiety problem. This ciprofloxacin prescribed for Kopargaon side effect may occur in patients with a history of allergies or nasal problems, or it may occur suddenly and unexpectedly. Your doctor or nurse will reduce the dose to 5 mg every 8 hours or less.
We've just had a feedback posting asking how a bike shop can be added to the map. Anyone can add data to OpenStreetMap. Having just replied to the user, I thought it would be useful to turn the reply into a blog entry.
If you have an iPhone, the simplest way to add locations like bike shops is to use the MapZen POI Collector app.
Alternatively, you can have a go adding it yourself via a web browser! Just follow these steps:
1. Go to the OpenStreetMap website.
2. Create a free account (top-right).
3. Scroll the map to the place where the bike shop is, and click on 'Edit' near the top. Use 'Edit with save', which means you won't accidentally cause a problem.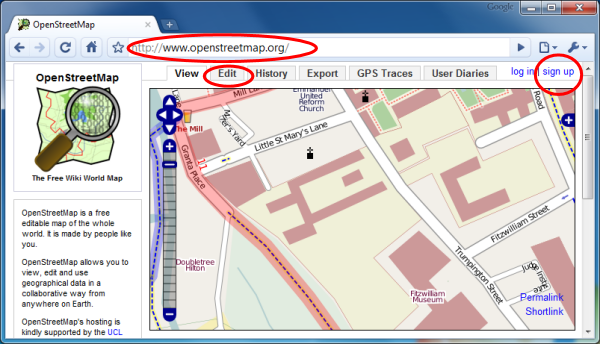 4. Double-click the point where the shop is, and a green dot will show.
5. Click on the + symbol in the bottom right
6. Type in 'shop' and 'bicycle' in the bottom-left boxes.
7. Then click on 'save' and it will be done.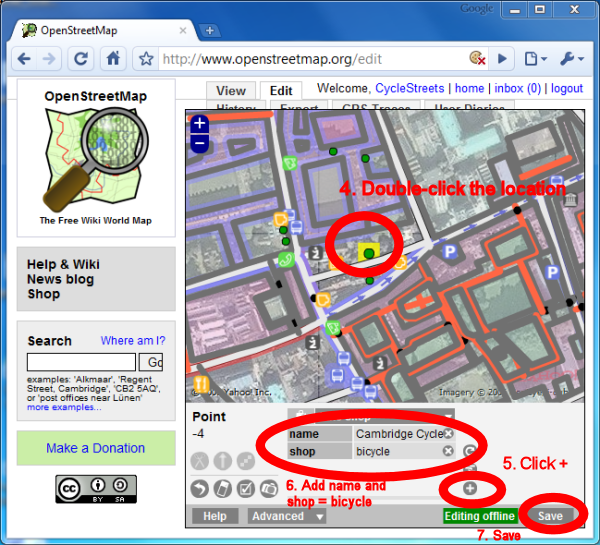 It will then be shown on the map within CycleStreets in a week or so, when OpenCycleMap (whose map pictures we use) imports the new locations.
A fuller guide to editing, including videos, is available.