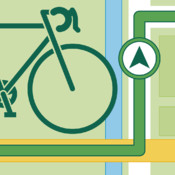 We've created a new app for Hackney Council, the Cycle Hackney app.
Available for both iPhone and Android, the app aims to provide information to the Council on where people cycle for their daily journeys, and where improvements to the street and path network are most needed. This combines crowsourced GPS traces to help create a heatmap of utility cycle journeys.
The app is aimed at utility journeys – everyday cycle journeys, rather than being an app for the sport or time-trialling demographic that can be found elsewhere.
After each journey, a short questionnaire appears to obtain some basic demographic information – this only takes a few seconds to complete: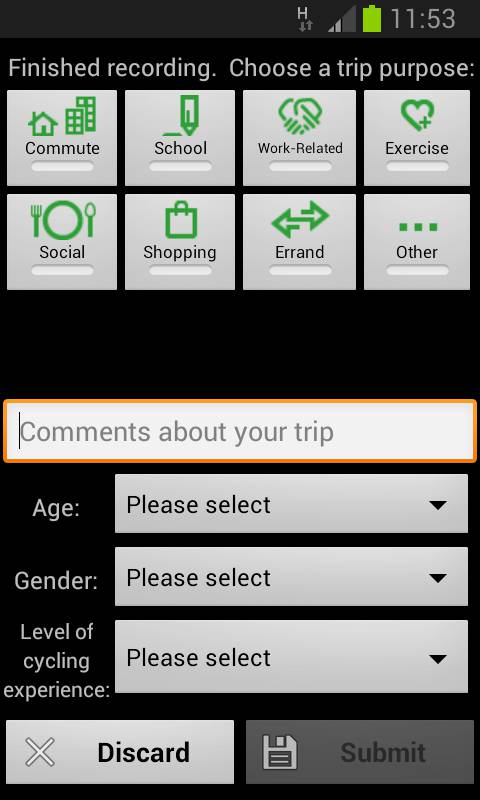 In a press release for the app, we said:
"We've been pleased to create the Cycle Hackney app for Hackney Council. Although there are other apps for leisure route sharing, none have focussed on utility cycling data. The app will help identify streets and paths heavily used for everyday cycle journeys, as well as letting people report problems on the network. Local people can therefore use it to help the Council improve cycle infrastructure that will enable more people to cycle. Higher cycling levels are crucial for economic, environmental and health reasons, and Hackney is a leading borough in this."
The app was launched at the Hackney Cycling Conference 2014. Hackney Council asked attendees of the conference to come up with an unusual or notable route to the conference. Here were the two winning entries:
One person, the winning entry, cycled the boundary of Hackney – an impressive feat!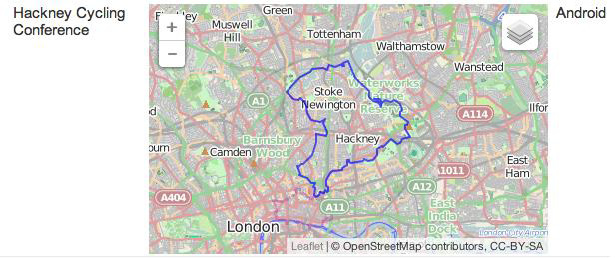 Another person took the opportunity to create some 'GPS art' to spell out 'I Love Hackney Cycling':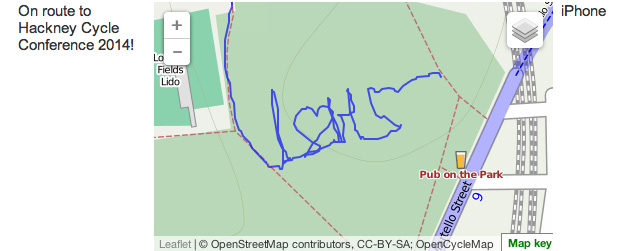 As well as giving a list of routes, enabling users to track their distance and calorie usage, the app allows people to upload reports of problems they encounter in their daily journeys.
We're pleased that the new app was a finalist for the London Cycling Campaign Awards 2014, in the Digital Campaign of the Year category.
Hackney Council's transport team would welcome any feedback on the app, for instance, new features that would be useful to add, or other feedback. We've enjoyed working with Hackney on this project.
The app uses code from Cycle Atlanta and our own CycleStreets apps. The app has been created by our developers,  Neil Edwards (iPhone) and Jez Higgins (Android).
PS We can create apps for Local Authorities and others that combine our portfolio of cycle mapping solutions – journey planner, photomap for reporting problems, GPS tracking, and information updates. Do get in touch if this may be of interest.