This is a guest post from PleaseCycle, who include a journey planner run by CycleStreets in their product.
PleaseCycle is an online system allowing councils or employers to encourage and reward resident or employee cycling through an innovative leaderboard system and redemption of 'points' earned, whilst being able to report on the carbon saved as a result (very useful for CSR reporting) and routes taken (useful for infrastructure projects and further funding).
PleaseCycle helps organisations or councils understand, encourage and reward resident and employee sustainable travel – a proven way of saving carbon, increasing productivity and lowering absenteeism.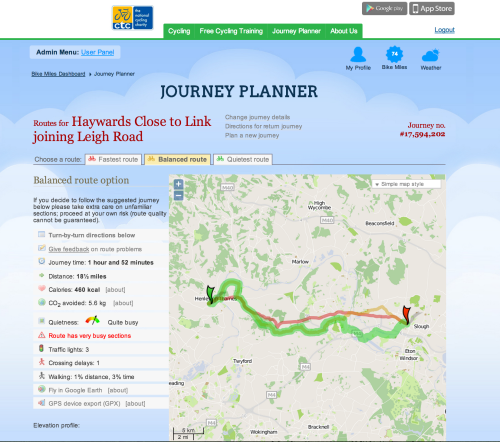 Our system is an online portal containing educational content, safe route planners, weather updates and a 'leaderboard'. This allows staff or residents to 'compete' in teams across the organisation or Council, build morale and fitness, see how much they're cycling, the resultant carbon saved and earn rewards for their mileage – like an "Air Miles" for bikes. These can be redeemed for free coffee, discounts off fitness/cycle accessories, bike servicing etc.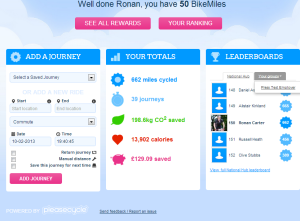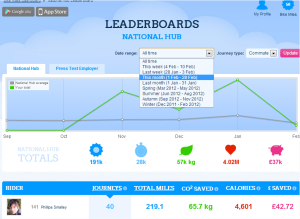 It's an employee-engagement, benefit and CSR tool rolled into one, helping organisations or councils to inspire healthy and sustainable behaviour  capture carbon data (valuable for carbon-reduction targets) and demonstrate the ROI of cycle2work schemes.
We utilise the Cyclestreets embedded journey planner solution for the PleaseCycle journey planner – see image below. Our whole product is about getting people new to cycling to give it a go, or have the confidence to cycle further. The Journey planner allows people to get over some of the barriers to cycling such as finding a safe route, or identifying where cycle paths are. The ability to map a quick, safe or balanced route is fantastic, and seeing the journey times makes people realise cycling is so much more efficient than public transport for short journeys.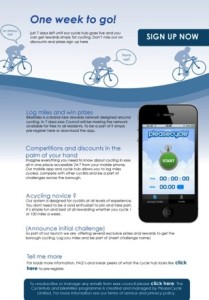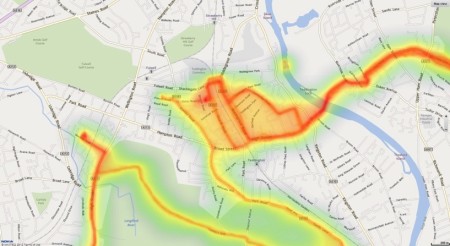 Thank you, CycleStreets, for a wonderful product which our clients and users value greatly.
Ronan Carter – Director, PleaseCycle