Over the last year we've been pleased to work with Cycling Scotland on a range of projects, now all completed and outlined below.
These projects, which have been achieved thanks to Cycling Scotland's grant and funding of £22k, will help improve improve CycleStreets, to help people find their way and consider cycling as a practical option for their journeys.


Cycling Scotland is the national cycle promotion organisation for Scotland, working to establish cycling as an acceptable, attractive and practical lifestyle option, and aiming to make Scotland a nation of cyclists.
Cycle journey planner for Cycling Scotland
The new Scotland Cycle Journey Planner has launched!
This is a customised, embedded site within Cycling Scotland's website, enabling people to plan journeys from A-B directly within their site. It includes quick links to a number of cities in Scotland.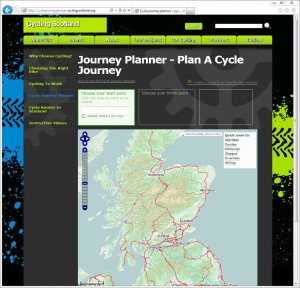 Community mapping guide
We've created a community mapping guide, which explains how people can help improve the data used for the journey planner. This is part of Cycling Scotland's 'Community Cycle Mapping' project which encourages local communities to capture cycling-related information so that it can improve the journeys of others.
Finding out about good cycle routes – where it is safe and convenient to cycle – means availability of good maps and the knowledge of local people about their area.
The guide is also available on Cycling Scotland's website.
Improving the routing by supporting more detailed street data
Part of the grant from Cycling Scotland helped us to add support for more detailed information coming from in OpenStreetMap. By interpreting things like surface quality, various barriers, etc., we can improve the quality of journeys that we can suggest to users, leading to ever-improving routes.
We also began work on supporting turn delays in the engine, to reduce the problem of wiggly routes in the journey planner engine. We hope to complete this in coming months. Finishing this will mean we can improve the practicability of routes that people follow.
Hosting fund contribution
The grant included a contribution towards hosting, which has ensured we can cover use of the main journey planner for Scotland for three years. (Donations, enabling us to improve the hosting across the UK, are welcome!)
Android app
The CycleStreets Android app, available FREE was released last year more quickly as a result of the grant.
The app is well-rated, at 4.3/5 with 99 reviews. Most reviews seem very positive and highlight how the app has helped them find better routes.
Mobile web site
The grant also enabled us to develop a new mobile small-screen version of our website. The site ensures that people can access the journey planner easily via their mobile, for a variety of types of mobile device.
It has just been honoured as a winner of 'Best Application Design' by the usability expert, Jakob Nielsen.