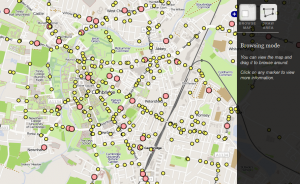 We're pleased to launch today a new resource for the cycling community: a browsable, searchable collision map with complete details of every reported road collision involving cyclists in the UK since 2005. This will also be integrated into our new campaigning toolkit being finalised, Cyclescape.
www.cyclestreets.net/collisions
Not only can you browse around the map, but you can also:
Select areas to get all the details of each collision in that area (see screenshot below)
View full details of each collision and its associated vehicles and people involved
Export the data to a spreadsheet
Drill down through the data (which will soon be linked with the geographical view)
Search the data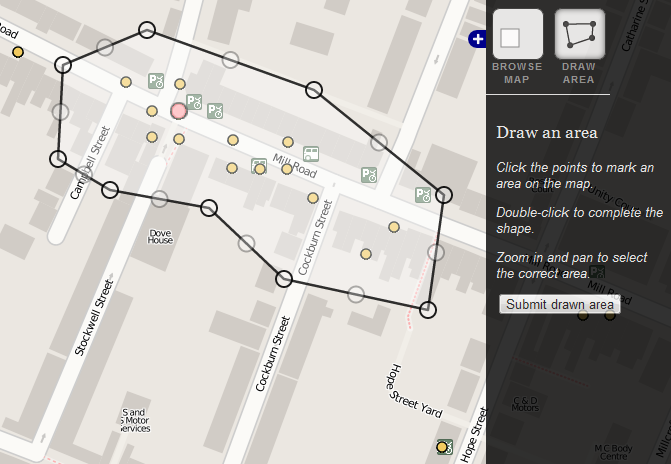 At present the map view is limited to cycle collisions (but the search interface can retrieve others).
This new facility has been possible thanks to power of Open Data – in the form of the recent release by the government of STATS19 data. STATS19 is the system used by the Police to record details of each collision and, as part of that, each vehicle and person involved. The dataset is incredibly detailed, and so we want to help campaigners make sense of it.
In our work to compile the data, we've gone a step further and added the drawing, export and search tools (as we had existing code to make that fairly easy to add).
You can click on any point to see a summary of key details, and then click to view the full report, each of which has a stable URL for future linking:
The main driver for this work has been to create a data interface (API) for Cyclescape, our campaigning toolkit, which will shortly have the ability to press a button to view collision data around the area of an issue (e.g. a poor junction) being discussed by campaigners. For the Cambridge area, this work to integrate it into Cyclescape is being funded by Cambridge Sustainable City, as part of a set of improvements that are desperately needed by Cambridge Cycling Campaign for a range of campaigns on longer lorries, huge planning applications and junction problems.
We've therefore created and documented an API that exposes the data. (We cannot guarantee the API will be stable until a few weeks' time.)
Lastly – partly to help with testing – there is also a detailed search, which will shortly be integrated more fully with the geographical drawing facility.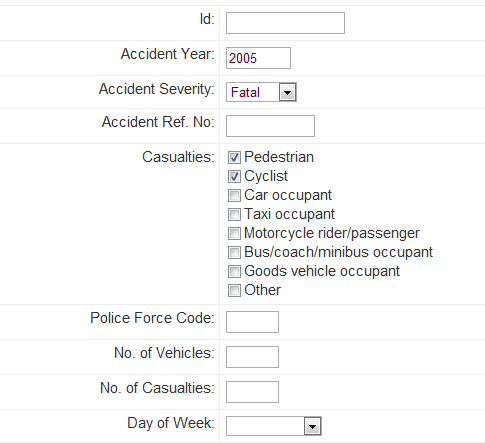 Do let us have your feedback and let us know what you'd like to prioritise next. Stabilisation of the API will be our foremost priority in the short term.
We'll be considering whether to take into account this data into the journey planner engine. As cycle campaigners ourselves, we know that collision data is subject to considerable under-reporting, and thus we would need a high statistical significance to use it for that purpose.