A Cambridge-based project to improve cycling around the Britain has reached the finals of a national funding contest, GeoVation, run by the Ordnance Survey. GeoVation aims to combine Geography and Innovation to help fund ideas which will help improve transport of various kinds.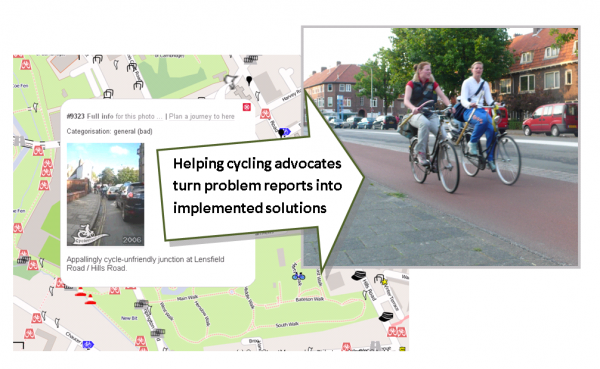 The bid by Cambridge-based CycleStreets, who run the UK-wide cycle journey planner website, has reached the final 10 projects aiming to improve transport in Britain. Over 150 entries were initially submitted, and CycleStreets have succeeded in the initial shortlisting stage and a subsequent workshop event.
The 'Dragon's Den' -style event to select the winning projects will be held on 4th May at the Ordnance Survey's new eco-friendly headquarters in Southampton. This 'GeoVation Showcase' event will select around five winners, who will share a bounty of £150,000, to enable the projects to be developed.
CycleStreets' proposal is for a web-based system to improve the effectiveness of cycling advocacy groups around the UK. These groups aim to get more people on their bikes, by encouraging local councils to create safer and more convenient conditions for cycling. It is designed to help volunteers who care passionately about improving cycling to work together as effectively as possible.
CycleStreets' proposal has the backing of both of the national cycling campaign bodies and a range of groups around the UK, including Cambridge Cycling Campaign. For instance, CTC – the national cyclists' organisation said:
"A webtool for cyclists to help local councils spend their cycling budgets cost-effectively would be a wonderful 'big society' venture, that could yield huge benefits for our health and that of our streets, communities and the environment."
CycleStreets' idea will make use of a variety of information sources, including the Ordnance Survey's boundary and postcode data, collision and planning application information, and OpenStreetMap data.
Dr Chris Parker, GeoVation Co-ordinator at Ordnance Survey, said:
"There are huge and exciting opportunities for geography to be harnessed to help us all travel in a smarter, more sustainable way, as all our finalists have clearly demonstrated. We're looking forward to seeing the CycleStreets pitch and wish them the best of luck."
Notes for editors:
Information about GeoVation, and the finalists – including CycleStreets' proposal – can be found online at http://www.geovation.org.uk/.
Details of CycleStreets' bid, 'Helping Campaigners Campaign' is at http://www.cyclestreets.net/blog/2011/03/06/geovation-bid-shortlisted/
For more details, contact CycleStreets
CycleStreets is a not-for-profit company based in Cambridge, and was created as an off-shoot of Cambridge Cycling Campaign.
CycleStreets runs the UK-wide Cycle journey planner and Photomap at www.cyclestreets.net , which has had over 640,000 journeys planned. Users can plan cycle-friendly routes from A-B, and will get three options – a quietest, fastest and balanced route option. The Photomap enables people to add photos of cycling-related problems and good practice to the map.
A copy of the Ordnance Survey logo and the CycleStreets logo are available. A full-size version of the graphic above is also available.