Today is our second birthday – CycleStreets was launched on 20th March 2009.
The last year has seen a huge amount of development work, leading to new features, speed improvements, and more. However, the next six months will be even busier as the project really ramps up!
In the first year, CycleStreets planned 67,000 routes. In our second year, around 437,000 routes have been planned, and the rate of increase continues to climb. By November we had planned enough routes to cycle to the moon ten times, and in February, we reached the milestone of half a million journeys planned.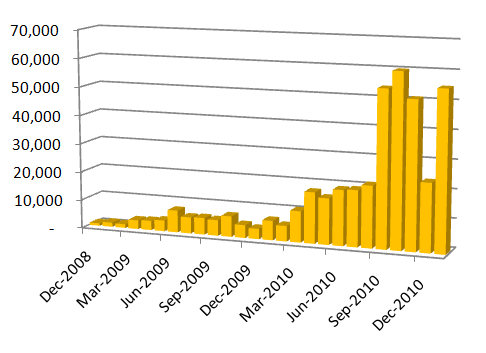 A major challenge we faced a year ago was the technical challenge of generating the routes fast enough.
A year ago, CycleStreets used a routing engine written in PHP (!) that we created for the Cambridge-only predecessor of CycleStreets – the Cambridge Cycling Campaign journey planner. It was slow, taking half a minute to plan a route across London, and taking up most of the system resources. Effectively, it was the wrong technology and didn't scale to UK-wide routing.
We held our first Developer Day, which lead to very productive discussions about the routing engine and how we could provide routes to users of the site faster. A friend of the project, George, wrote us a new engine (using Python) which lead to a massive speed-up. Then Robin, another volunteer, took the Python engine and created an even faster version in C++. This has been in place for most of the year and has quietly sat at the heart of the system, planning routes in a few GB of RAM while barely challenging the processor.
The work on the routing engine meant that we have been able continually to increase the maximum planning distance, which is now 200 miles (320km), which is well above a day's cycling! The development version of the system can even now do Dover to Cape Wrath!
Improving the routing speed was a key requirement for mobile apps, several of which signed up to use our routing through the year. These include the leading app for the London cycle hire scheme – London Cycle: Maps & Routes, plus two other excellent 'boris-bike' apps, the briliant and world-first 3D bike satnav app, Bike Hub, BikeRoute for Android and, of course, our own CycleStreets for iPhone app.
Our own iPhone app was made possible thanks to two grants we successfully applied for.
Our Android app is nearing completion, and like the iPhone app is being developed as an open source project. Thanks to our mobile developers for their brilliant work on these.
Through the year we have given various presentations and got involved with various social enterprise -related activities., such as WhereCamp EU, CamTechNet, Cambridge Geek Night and Net2Camb amongst others. These events lead to interesting discussions and also resulted in useful new contacts, such as people helping out with our mobile apps.
It was a particular plesure to give a presentation to Net2Camb as it gave us the opportunity to speak about the challenges faced by us as a not-for-profit social enterprise, rather than purely talking about technical challenges.
We have launched a funding drive for £130k to raise funds for two full-time developers. Such funds would enable the project to move forward much more quickly.
The DfT has this year been collecting cycling data which we are keen to see added to OpenStreetMap. We have since had informal discussions with Cycling England about use of the data, and how conversion of the data might be undertaken and at what cost. Discussions have been positive, and we feel this data would improve the quality of routes that we can deliver to users.
Over the year, more and more governmental bodies have been linking to us. For instance, in April, Cycling Scotland linked to us, and we are keen to work with them to help motivate people to improve OpenStreetMap data in Scotland. Others, including some of the Cycling Demonstration Towns like Chester and Lancaster now link to CycleStreets, and we have just sent a new brochure to councils around England.
Increasing the flexibility of the CycleStreets platform has been an ongoing priority.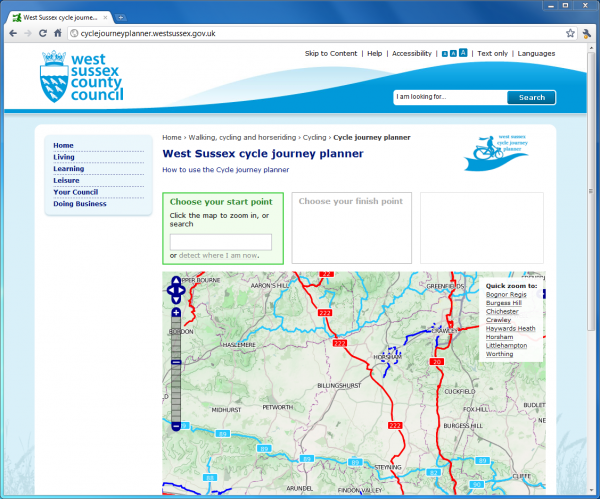 In February we created a customised cycle journey planner for West Sussex County Council, building on work we have done to make it easier for organisations to have a journey planner within their website. Another has been created for the Bike Hub website, and a demo Local Authorities site is available.
The year has also seen a few developments on the Photomap. This is an area we would like to do much more on, as explained in our GeoVation bid for which we have now been shortlisted.
We created, under contract for Cambridgeshire County Council, a site called 'Cycling Sorted' to help manage the shortage of cycle parking in that area. We are keen to create similar sites for other Local Authorities. We have also created a similar system to support the great work of London Cycling Campaign.
OpenStreetMap is the backbone of our project, and we have been pleased to promote OSM and encourage more mapping for it. Over the summer we helped obtain a database of all the bike shops in the UK, for use in OSM, from the Association of Cycle Traders. Much of this has been merged into OSM, but more needs to be done to complete this crowd-sourcing exercise.

CycleStreets' use of open data saw it being featured on the front page of the government's new data website – data.gov.uk.
Throughout the year, we implemented many smaller improvements and innovative new ideas, such as the new cycle.st shortlink domain, our new Photo of the Day on Twitter (featuring the best of the 25,000+ pictures in the Photomap), a new gallery viewer, better facilities to link to the journey planner, adding an integrated editor (Potlatch 2) as well as various ongoing design/usability improvements (though there is much more to be done, time/funding permitting).
Routing quality work, however, remains our highest priority. Our aim is to provide the highest quality routing possible for cycling, using our knowledge as cyclists. Various improvements have been made recently, and we are currently working on new routing attributes and reducing the wigglyness of some routes, which is proving a difficult problem to solve with limited hardware resources.
Simon and Martin, lead developers, would like to thank a range of people who have helped out in various ways, such as Andy, Shaun and David from OpenStreetMap, George and Robin for work on the routing engine, huge support from Chris in Edinburgh, George from Camden, our mobile developers – Alan, Neil, Jez, Theodore, Christopher and Jonathan, advice and a free dev server from our brilliant web hosts Mythic Beasts, our designer Ayesha, Jeremy for occasional advice on business matters, support from key individuals at the CTC, LCC and Cycle Nation plus others in our stakeholder group, Carlton and Bike Hub, helpful ideas and data from cycle campaign groups around the UK, and of course the amazing community of OpenStreetMap contributors whose mapping makes everything possible.
Lastly, we would like to thank our users, whose cycling needs provide us with the inspiration to keep going, and who provide us with much feedback and many great ideas.