In town somewhere unfamiliar and don't know how to get home? Want to avoid a hilly area for your cycle journey? Know about main roads but don't know the quiet route home? Found somewhere that needs cycle parking or infrastructure improvements which you'd like to tell others about?

An iPhone app has been the number-one feature request we've received over the past six months. So …
We're extremely pleased to announce that we've obtained significant funding for a full CycleStreets iPhone app, from the Rees Jeffreys Road Fund.
The Rees Jeffreys Road Fund grant is for £5,000, which will be split between mobile development costs and improvements to the core journey planning algorithm/speed to support mobile use. We're extremely grateful to the Trustees of the Fund for their support – their funding has enabled this much-requested new interface for CycleStreets to come about.
CycleStreets for iPhone will include the Journey Planner, Photomap (including photo upload) and other CycleStreets features.
We are also seeking further funding of £2-5k to cover the remaining costs. This will enable us to add more functionality more quickly, including getting the Photomap into the initial release.
We've engaged mobile developer Alan Paxton to carry out this work for us, who is kindly undertaking the Objective-C coding work below a commercial rate.
CycleStreets for iPhone will be released free of charge. (A future version may add paid-for features such as streetname voice emulation which have knock-on costs.)
Here are some early development screenshots!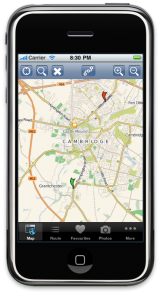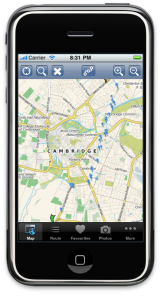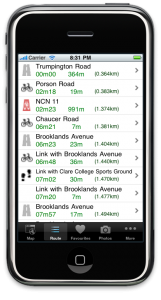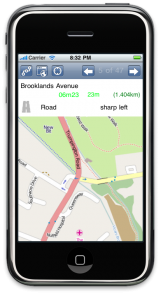 Other platforms?
We would love to cover other platforms, in particular Android, as soon as possible, although we have no identified funding at present, nor do we have expertise ourselves in the coding required. Development time donations would be welcome from people with knowledge of developing for Android :)
It is also a high priority in our interface development programme to create a generic HTML interface more suitable for mobile devices, i.e. with bigger buttons, a cut-down feature set and quicker downloads. Again, we welcome offers of expertise or coding to help this happen more quickly!
Other mobile apps using CycleStreets routing coming soon!
Some other forthcoming mobile apps will be using CycleStreets routing, via our API – which is really great news! (These will include CycleStreets routing in some form but are not due to feature the Photomap and other parts of CycleStreets.)
Forthcoming apps include:
The exciting new BikeHub app, which will include a bike shop finder, journey planner and more!
For London, the London Cycle Hire App, which will help you find one of the 400 cycle docking stations in Central London so you can pick up or drop off a bike – and then plan a cycle journey from there!
TrackMyJourney, a Java-based app (targeted to Nokia, Sony Ericsson and BlackBerry platforms) for location tracking, map display, navigation and route plotting
If you have an app that would be interested in using our routing, do check out our API pages.
We are working solidly at present to improve the routing speed/resilience and deal with over-wiggly routes. Improvements will be experienced automatically by API users as we roll these improvements out.
Research-based routing
We are partners in a grant bid to one of the UK Research Councils with some academic colleagues in the other place (Oxford!) for a collaborative project to look at cycling habits and data collection to measure behaviour and impact of cycling interventions. We think there is a lot of scope for adaptive routing – a new field for cycling, and this grant bid is something we're very excited about. It will require a lot more development work than the basic iPhone app outlined above will include. We are hoping to hear back within the next few weeks and have our fingers crossed!