Thanks to a grant (see our earlier blog posting) from Cambridge Sustainable City (part of Cambridge City Council), we have now added full postcode searching.
Postcode searching is clearly an expectation of users, and our data suggests some users have given up doing journey plans at all – on the assumption that the lack of recognition of their postcode meant their location wasn't there at all.
However, we still have a full streetfinder and placefinder as well – so feel free to search using normal text like "Market Place"!
This has been the most requested feature since we went live and we have received very many bug reports saying that "my postcode isn't recognised". We've mentioned this problem before, and we're pleased to have the money to add postcode searching for a year at least.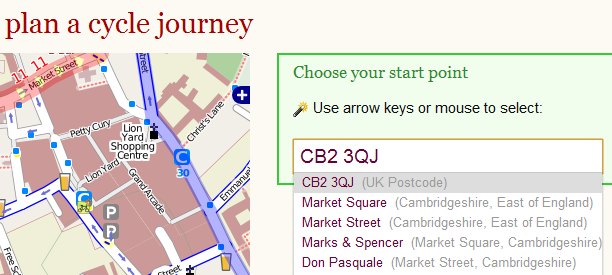 Sadly, PostZon is not a free data source (unlike OpenStreetMap, whose excellent map data we use for routing and the map pictures). There is a campaign to Free The Postcode which we strongly support, and there are rumours this might happen in the coming year, but there are absolutely no guarantees on this sadly.
Cambridge Sustainable City is an environmental initiative of Cambridge City Council, who are one of a number of Local Authorities who are now linking to CycleStreets from their website transport pages. (We hope that many more will follow!)
Cambridge Sustainable City aims to involve and support the local community in Cambridge's efforts to address environmental issues. As a means to achieving this, they offer grant funding to local groups and organisations like CycleStreets whose work brings environmental and community benefits.
We are extremely grateful to them for their support.
We will report on the other projects that their funding is helping to support in the coming months.