Craig Nelson, from Steer Davies Gleave, writes in this guest post about their experiences of integrating the CycleStreets data interface (API) into cycling promotion websites recently created for Local Authorities:
In 2006 Steer Davies Gleave developed the UK's first multi-modal journey planner for Brighton and Hove Council, as part of the Journey On project. Whilst it was ground-breaking, the project was tough – there was nothing on the market like it at that time so we had to work with a GIS software provider, set up a web service and play around with ITN data 'fused' locally collected network information. Whilst this allowed us to create a really accurate network for journey planning (including gradient information), maintenance was expensive and time consuming. Also, whilst we had full control of the network, it was near-impossible to let others edit or contribute.
Last year we took the decision to start looking at alternative data sources that are crowdsourced and alternative planning engines, and CycleStreets was the obvious match for our needs. We'd previously been working with a broad range of APIs for travel information provision – we like to use existing data sources rather than replicate or create new ones.
We were impressed with the CycleStreets approach, and really liked the way that OSM data was being managed by local people. With the push for 'Big Society' and an emphasis on local authorities saving money, we thought that hooking into what CycleStreets had created would be a good move. After discussing with Martin and Simon it became clear that an API could add considerably value to what we do and what we could offer our clients and, importantly, the public.
We've recently used the CycleStreets API for a wide range of multi-modal journey planning projects.
The first was a schools journey planner for Hertfordshire County Council. The client on this project really liked the way that their sustainable transport team could update the cycle network themselves and encourage others to do so as well.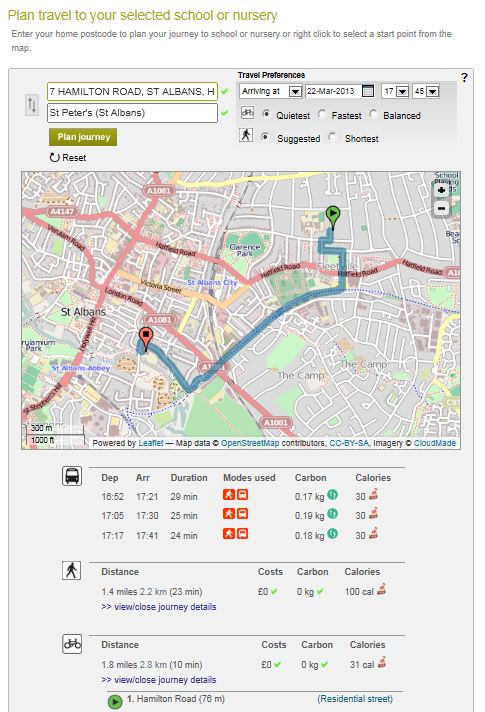 At the same time we were working with Swindon Borough Council to develop a new Swindon cycle map – we soon realised that we could use OSM to provide printed outputs as well as online and journey planning networks. Genius! With some initial support from the OSM team, we started to train up Swindon's sustainable transport staff and get them involved with maintaining Swindon's OSM network.
We now take regular updates to maintain their cycle map (printed and online) and rely on CycleStreets to update their journey planning network. It's a fantastic proposition that works brilliantly.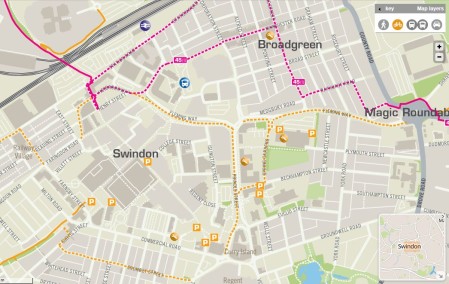 More recently we've used the CycleStreets API for Travel West's new multi-modal journey planner and will be using it for three more UK local authority mapping and journey planning projects.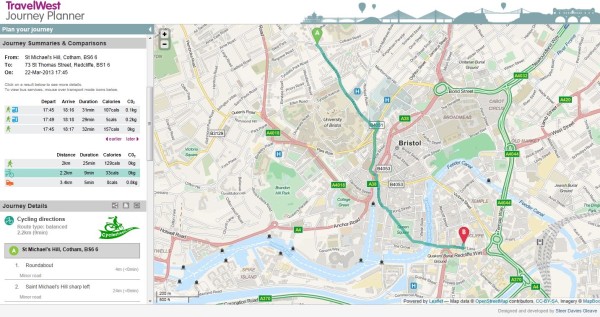 What makes the API so attractive, apart from the regular updates to the network, is the ease of use and the way it can be integrated with our existing products. Clients love it too as they can keep their costs down and feel that they are buying into a really cutting edge source of data.
We're really looking forward to what CycleStreets come up with next!
For further information, visit www.steerdaviesgleave.com.