This is a guest post from Traveline Cymru who have just integrated our cycle routing data interface (API) into their multi-modal travel service.

Traveline Cymru has launched the latest addition to the journey planning service on its website, with the introduction of the option to plan a cycle route. The routing is provided by CycleStreets.
Now when planning a journey in Wales using the Traveline Cymru website, you will be able to select 'cycle only' and a written route of directions will be provided as well as the option to view your route in map form.
Step 1: Go to the Traveline website and plan your journey by entering a travelling from and a going to destination.
By selecting 'Additional Options' it allows you to decide what kind of cycle route you require for example the fastest or quietest way. It also gives the option to select a cycling speed.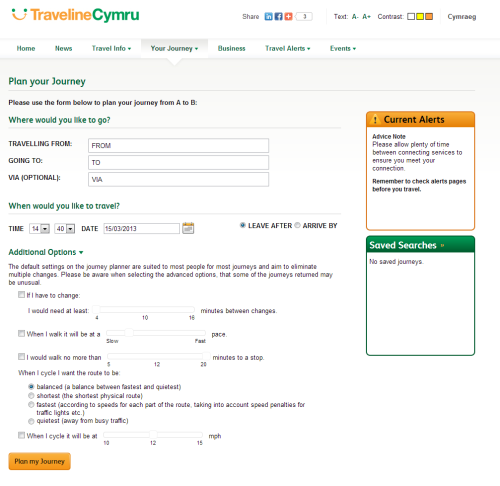 Step 2: Select the 'Cycle Only' tab.
Step 3: This then allows you to see how long your cycle journey will take you. To get further information on the route, click 'Journey Details'.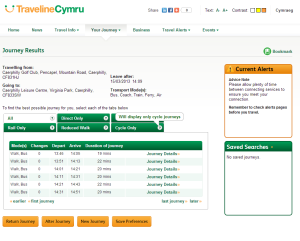 Step 4: The journey details will tell you exactly what roads you will be cycling down, how far to go and how long it will take you. This can be saved, bookmarked, printed or emailed for future reference.
Step 5: If you would like to see your journey plotted on a map, click 'View route on map'. This will then open another browser with your cycle route shown on a Google map. The yellow markers indicate a new point on your written instructions.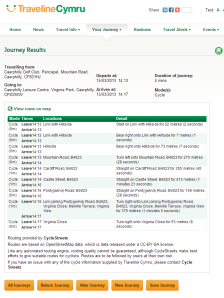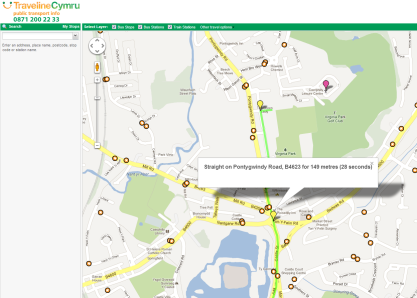 Traveline are very excited about the addition of CycleStreets to the website as it will allow people to consider cycling as one of their travel options. It helps put Traveline Cymru one step closer to being Wales' one stop shop for ALL travel information.
Please visit http://planner.traveline-cymru.info/journeyplanner/enterJourneyPlan.do to try it out for yourself!