The last few months have seen a big resurgent movement of people wanting to see better cycling conditions around the UK. We couldn't let this pass without some brief comment!
---
Cities Fit for Cycling – Times CycleSafe
The Times newspaper has been running a fantastic campaign, Cities Fit for Cycling, which has massively raised the profile cycle safety issues, with its 8-point manifesto that echoes many of the key issues often raised by cycle campaigners.
As a search for #CycleSafe on Twitter will show, Cities Fit for Cycling has really captured the imagination and interest of cycle campaigners – and increasingly the general public – around the UK, and especially in London.
A series of articles has really upped the pressure on decision-makers, leading to parliamentary debates, and London Cycling Campaign have helped pile on the pressure by organising The Big Ride.
Through our own project Cyclescape we are hoping to enable the enthusiasm of campaigners to be facilitated more at a local level.
---
Summer of Cycling
This summer sees the Summer of Cycling. It's a great opportunity to encourage someone you know to get on their bike!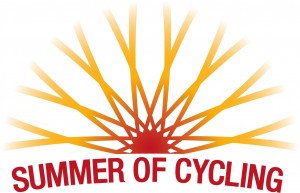 The Summer of Cycling is a national campaign running this summer which aims to encourage more people to cycle. The All-Party Parliamentary Cycling Group and The Bicycle Association, alongside the force of 23 cycling organisations are aiming to double cycling this summer.
It's about encouraging everyone with an interest in cycling to share the fun and introduce just one friend, neighbour, colleague or family member to cycling.
---
Go Dutch! says London Cycling Campaign
London is seeing a resurgence of interest in the idea of Going Dutch, thanks to cyclists led by London Cycling Campaign, of which we are proud to be members, and others.
LCC have done a brilliant job over the last year in challenging decision-makers to do better in places like Blackfriar's Bridge and Parliament Square, and to do what virtually no other group has done, and actually showcase actual alternative designs, putting forward a wonderfully positive agenda. From our own experience in cycling around the Netherlands, we know how much this would benefit every Londoner, and so we fully support LCC's efforts.
Have a look at more Photos from the Netherlands in our Photomap, some of which were from our own trip with Cambridge Cycling Campaign.
We hope some of the above will inspire you to get more involved, wherever you are!
— Martin and Simon