Cyclescape is the toolkit for cycle campaign groups that we're developing. Here's the latest update, cross-posted from the Cyclescape blog:
---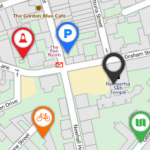 Work is continuing apace with Cyclescape, with more features now in place as we work up to a wider release to Campaign groups around the country.
There are still quite a number of unfinished areas, but we're getting there. Andrew and (most recently) Andy have been busy adding more in place for us.
Deadline setting
Collision data
Per-thread attachments
Committee-only privacy setting
Popular issues
Read about these below:
Deadline setting:
Deadlines (or other dates) can now be set.
Our experience of cycle campaigning is that it's often easy to miss a consultation deadline or some other date, if there's a lot going on. By then, it's too late, and the opportunity to see improvements to cycling are missed.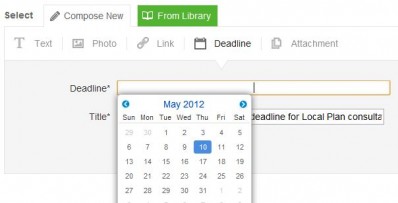 The set dates are now listed in 'My Cyclescape', the user's main summary area. We'll be developing this interface further.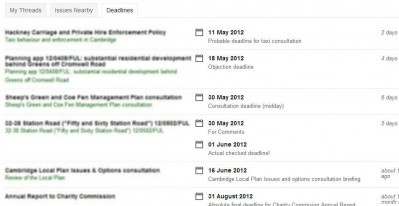 Collision data:
Collision data is now integrated, using a new data feed from CycleStreets, and linking through to their collision reports.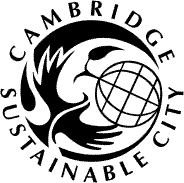 This feature has been developed for the Cambridge group, pushed forward because of the large number of planning applications in that area, for which collision data can often provide a useful context.
Development of this feature, and various underlying code pre-requisites, has been possible thanks to a grant from Cambridge Sustainable City, whose support has been invaluable.
This screenshot, for instance, shows the site of collisions in Mill Road, an area subject to continuing pressures on cyclists from lorries. Several planning applications in recent years would have benefitted from this data being available.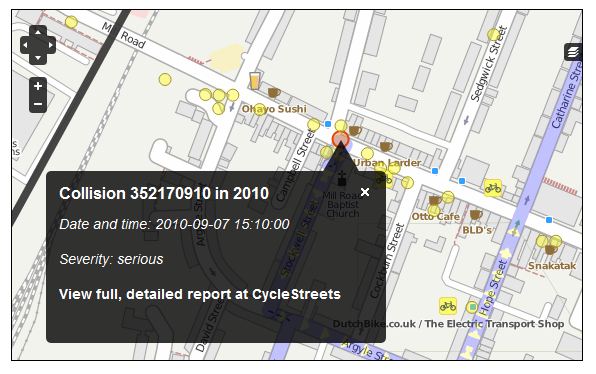 The finalised interface for collisions isn't quite in place yet – buttons for this will be added to finish it off.
Per-thread attachments:
Attachments can now be added to individual discussion threads. Previously the only way to add an attachment was to add it to the Library, which is always public.
Currently there is a slight limitation that, if e-mailing to the discussion thread (since you can reply to things via e-mail, not just via the website), attachments do not get through. We're working on this!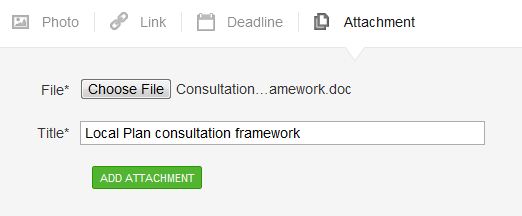 Committee-only privacy setting:
There are now three privacy options for each discussion thread:
Public (publicly visible)
Group (i.e. available to all members of the group)
Committee (available only to current Committee members)
The latter option means that groups can discuss sensitive matters in privacy if required, e.g. pre-consultation plans from a developer.
There is a setting in the group's area which sets the default (public/group) when their members start a discussion thread.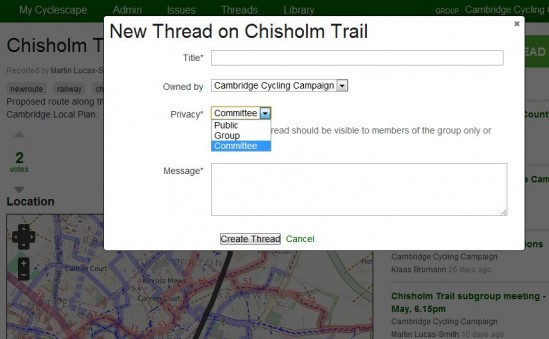 Popular issues:
Cyclescape has a voting system, which now results in a list of popular items, ensuring that key strategic issues can stay floated to the top.
More will be done to expose this feature in due course, as the rest of the interface is improved, but the underlying functionality is now in place.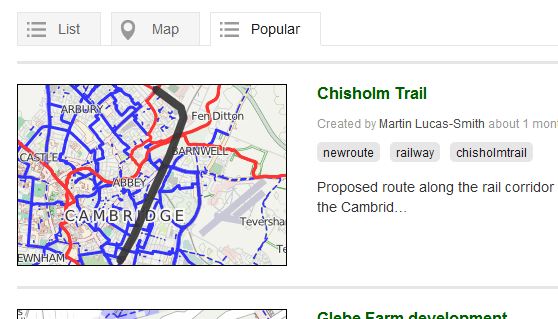 The What's New? link at the end of each page on the site has a log of individual features and bugfixes as they are put in.
Bit by bit, the site's functionality and interface is falling into place!
In our next Cyclescape blog post we'll talk about what we're currently working on, i.e. what's missing and what's not yet finished.